WOMEN TRADE UNION LEADERSHIP AND CBA ROUNDTABLE DISCUSSION
26 November 2019 Print page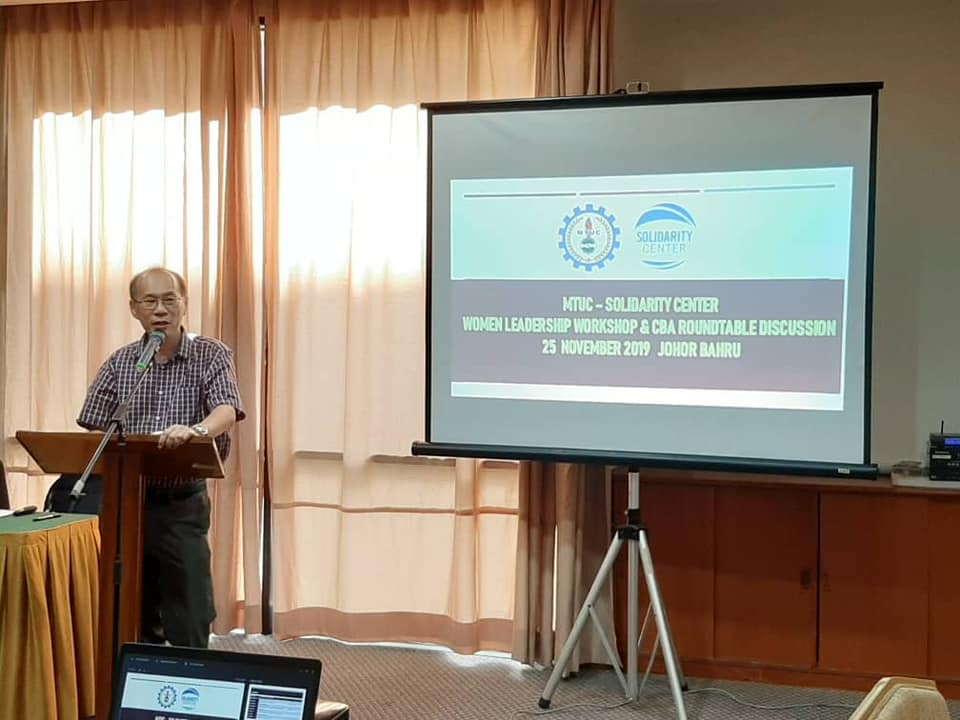 25 NOVEMBER 2019, JOHOR BAHRU
MTUC continues its collaboration with the Solidarity Center by organizing a Women Leadership Workshop and a Roundtable Discussion for CBA that promotes the role of women in the trade union. The objective of the workshop was to help and guide the representatives of the trade unions from the women so that they would play the same role as the male leaders in their respective governing bodies.
About 20 women participants from various sectors and trade unions attended the workshop. The workshop was officiated by MTUC Johor Division Chairman Bro Michael Tan. Meanwhile, Bro Zul Thye and Bro Rudy Rusly from MTUC Headquarters have successfully conducted the workshop as facilitators and presenters of their respective presentations. Bro Yunus from MTUC MRC Johor and Mr Wilibrodus Balawala from Solidarity Center were also present at the workshop.
In his opening remarks from the MTUC Johor Division Chairman, Bro Michael informed that the MTUC's struggle to uplift women in the trade union and has been serious in realizing the women's agenda since the 1960s. He also noted that it is important for participants today to study the C183-Maternity Protection, C111-Discrimination (Employment & Occupation), the C156-Workers with Family Responsibilities and subsequently the C98-Right to Organize and Collective Bargaining. This study is important so that some of the information contained in the international conventions can be cited to be included in the Collective Agreement for their respective unions to fight for the rights of women as a whole.
Mr Wilibrodus Balawala in his address said the involvement of women in the trade unions in Malaysia needed to be further enhanced. She told us about the history of trade unions involving women in Indonesia so that attendees can take up the lessons available. However, he hopes that all participants will be able to contribute thoughtfully and effectively in this workshop, especially in the roundtable negotiation of the Collective Agreement.
Bro Zul Thye has presented the role of MTUC Headquarters and affiliates unions across Malaysia in assisting union members and workers in Malaysia including migrant workers. This can be done through the establishment of the MTUC Service Center as well as the Migrant Resource Center (MRC). All activities carried out were explained to all participants.
Bro Rudy in the presentation of training as well as group work was carried out with full participation from all participants. Information on effective organizing methods as well as articles on the Collective Agreement improve the benefits for women.