Sultan Nazrin: Leaders must not betray the people's trust
20 October 2018 Print page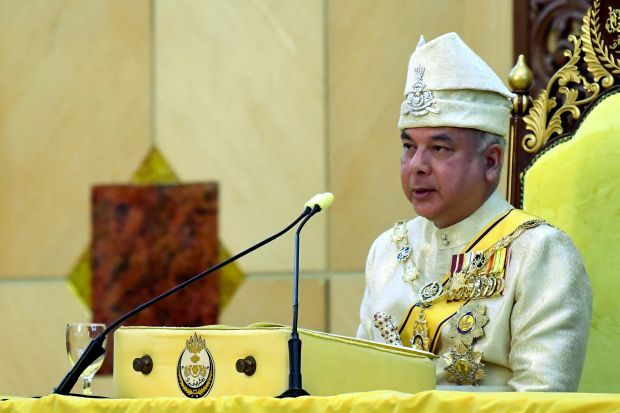 KUALA LUMPUR (Bernama): Perak's Sultan Nazrin Shah has reminded the country's leaders that they have been entrusted to protect the nation and citizens and as such, they must fulfil this trust.
He said the new government formed after the 14th General Election should carry out their responsibilities with honesty and integrity, in line with the move to replace the phrase "Saya yang menurut perintah (I who obey orders)" to "Saya yang menjalankan amanah (I who carry out the trust)" in official government letters.
"Religious scholars are convinced that religion will not be upheld, the world will not prosper without the presence of leaders who are trustworthy," said Sultan Nazrin, who is also University of Malaya (UM) chancellor at the university's 58th convocation ceremony at Dewan Tunku Cancelor here Saturday (Oct 20).
He said trust is the key factor that can develop a nation, state, civilisation and supremacy while absence of trust has been proven to have destroyed a nation, state, civilization and supremacy.
Meanwhile, Sultan Nazrin congratulated UM staff and students on its success in moving up 27 places from 114th to being placed 87th in the 2018 QS World University Rankings.
This year's convocation will see 5,279 graduants receiving their scrolls, 540 will receive Doctoral degrees, Masters degree (1,768), Bachelor's degree (2,928) and 43 Postgraduate Diploma in Education.
At the ceremony, honorary doctorates were presented to Datuk Dr Mahmood Osman Merican and Tan Sri Abdul Rahim Abdul Rahman while Professor Emeritus titles were conferred to Datuk Dr Goh Khean Lee, Datuk Dr Norma Mansor and Dr Masjuki Hassan.
Meanwhile, Izzudin Aman Shah, 23, from the engineering faculty and Chong Jing Sheng, 23, from the science faculty were selected as recipients of the Royal Education Award.
According to a statement issued by UM, Izzudin graduated in mechanical engineering with a 3.78 Cumulative Grade Point Average (CGPA), while Chong completed his Actuarial Science studies with a CGPA of 3.93.
"I feel very grateful and am proud of my achievement. It would not have been easy without the support of my parents, siblings, lecturers, fellow students," said Izzudin, who is a former Malay College Kuala Kangsar student from Kuala Pilah.
Chong who grew up in Layang-Layang, Johor said he owed his success to his lecturers adding that good time management was also important. "I also put a lot of effort on my research and studied consistently. I am honoured to receive the award," he added.
Source : https://www.thestar.com.my/news/nation/2018/10/20/sultan-nazrin-leaders-must-not-betray-the-people-s-trust/#xZgx2jK6sOdHDAAF.99