Rights activists decry police intimidation in New Malaysia
26 October 2018 Print page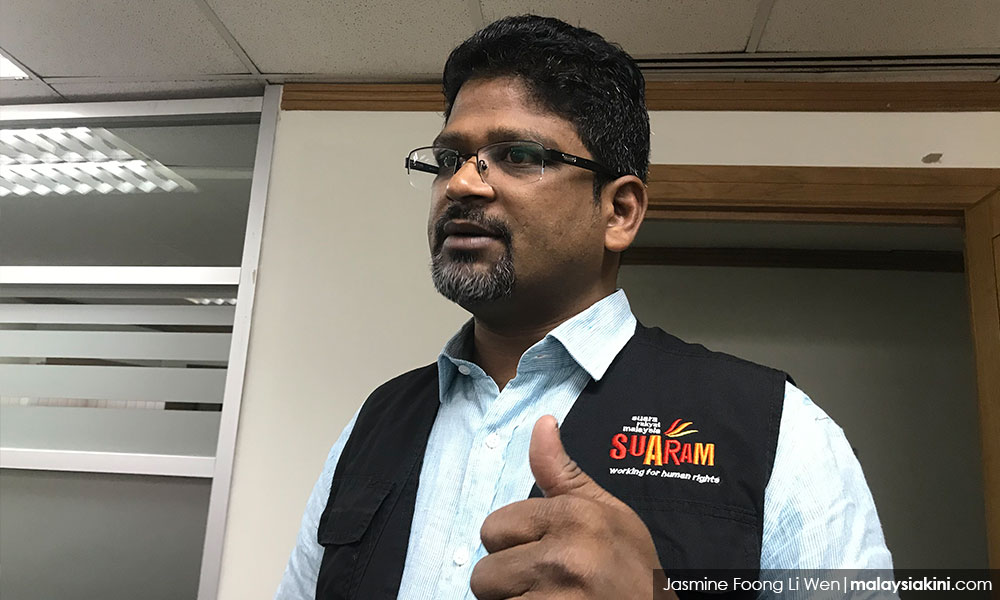 A group of NGOs have urged the Pakatan Harapan government to stop police intimidation of human rights organisations and activists.
"Many NGO members and politicians including from the current government have been intimidated and arrested by the police while fighting for the rakyat's rights and issues and this undermines democracy.
"Now that they have formed the new government, they also promised many changes especially when it comes to enforcement and security and also within the police force.
"However, police intimidation is still taking place even though Malaysia Baru is already five months old," said Suaram executive director Sevan Doraisamy (below) at a press conference at the Suaram office in Petaling Jaya today.
He said the Peaceful Assembly Act 2012 (PAA) was one of the acts still being used to intimidate human rights activists now, he said.
Through his work with Suaram, he said he had been called in for police questioning three times since the formation of the new government.
The latest was over a gathering outside Parliament on Oct 17 protesting the RM50 increase to the minimum wage as well as on Oct 24 when Suaram handed over a memorandum in Parliament, he said.
He noted that on both occasions they were received by ministers them being Human Resources Minister M Kulasegaran and Home Affairs Minister Muhyiddin Yassin and the gatherings were peaceful.
Sevan said the police were acting selectively in calling in people for questioning as there were also politicians from the current ruling parties present at the gatherings.
Those politicians, however, were not called in for questioning, he said, though he added Suaram did not advocate for anyone to be called in for questioning.
Malaysia Muda activist Fadiah Nadwa Fikri (below) said she, too, was called in by the police for questioning under Section 4(1) of the Sedition Act and Section 233 of the Communications and Multimedia Act (CMA) in July over an article she wrote.
Friends and activists had held a solidarity gathering outside the police station during the questioning, she said.
One day after that, she was informed that the police had lodged a report against her under the PAA due to the solidarity gathering.
'More often now'
PSM central committee member S Arutchelvan said that he had been involved in many demonstrations from the time BN was in power.
He said, however, it felt like he was being called in for police questioning more often now after Harapan came into power.
"I was involved in many demonstrations during BN's time but I am being called in for questioning more often after the BN government fell," he said.
MTUC secretary-general J Solomon, who was also called in for questioning over the Oct 17 gathering outside Parliament, said they had notified the Sentul police district headquarters about their gathering.
He said he was nevertheless called in for questioning by the police at the Dang Wangi district police headquarters who then told him that even though Parliament is under the Sentul police jurisdiction, Padang Merbok, where the participants had gathered, fell under Dang Wangi's jurisdiction.
"She (the Dang Wangi police officer) said this is Dang Wangi and you notified Sentul. She said we started at Padang Merbok which is under Dang Wangi.
"As far as I know, we can notify and lodge our police report anywhere.


"We will give our cooperation but I am just puzzled why you need to take our statements. There was no violence, we complied with the law and the minister was there," said Solomon.
Sources: https://m.malaysiakini.com/news/449078#.W9K0LuI3iF4.whatsapp