PAS PLEDGES TO RAISE THE MINISTER'S ABUSE OF POWERS IN TABLING THE AMENDMENTS TO LABOUR LAWS IN PARLIAMENT
16 October 2019 Print page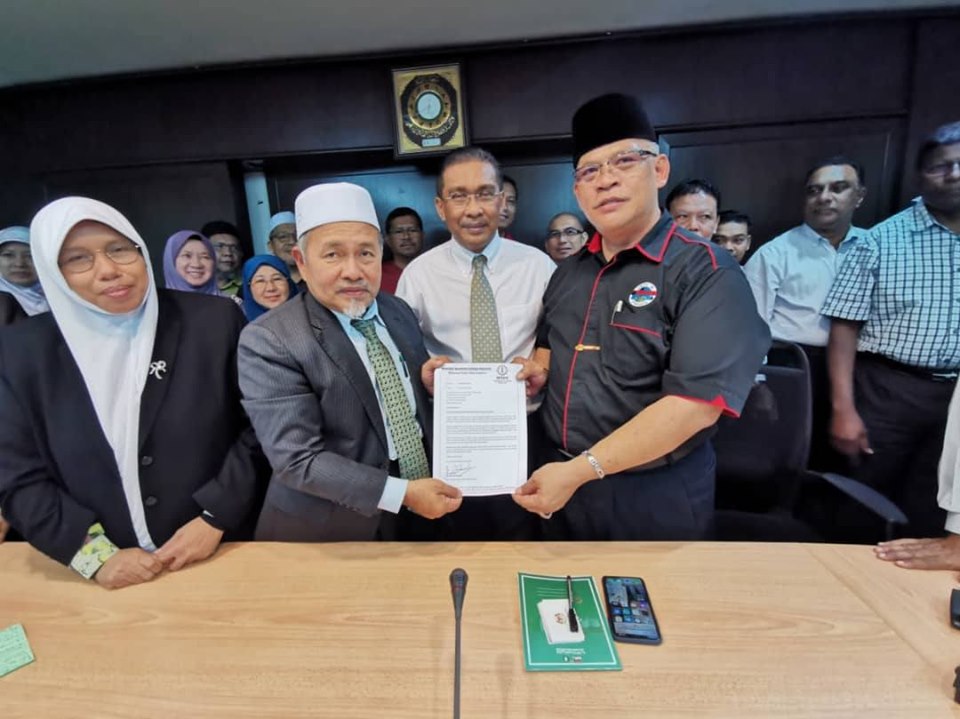 PAS has given its commitment to raise in the Senate the issue of Human Resources Minister YB M. Kula Segaran's unilateral action in the tabling of the Bill to amend the Industrial Relations Act 1967 in Parlaiment recently.
PAS secretary-general YB Datuk Takiyuddin Hassan gave this assurance after listening to the views of the MTUC and MEF leaders who met the Opposition party's senior leaders on 14 Oct.
The MTUC delegation at the tripartite meeting was led by its President Datuk Abdul Halim Mansor and Secretary-General J. Solomon.
Others in the MTUC team included Deputy President Mohd Jafar Abd. Majid, Financial Secretary Effendy Abdul Ghani, Vice-President Jey Kumar among others.
MEF was represented by Hj. Zaikon Jaffar.
Other than YB Takiyuddin, other senior PAS leaders present were Deputy President YB Datuk Tuan Ibrahim Tuan Man, YB Hajjah Siti Zailah, YB Ahmad Tarmizi Sulaiman together with some senators, MPs and state assemblymen.
PAS initiated this meeting to understand the rationale behind the opposition of MTUC and MEF to the proposed changes which were tabled in Parliament on 7 Oct.
The changes were passed by Parliament two days later and is currently awaiting the Senate's approval before it will be sent to the King for the Royal Assent before being gazetted.
Datuk Abdul Halim informed the PAS delegation that YB Kula Segaran tabled the Bill without the final draft being tabled at the National Labour Advisory Council (NLAC), as promised by the Minister.
MTUC told them that YB Kula Segaran had acted unilaterally although the MTUC, which represents 15 million workers, and the MEF were permanent members of the NLAC.
Datuk Abdul Halim said if the amendments were implemented without the mandate of the NLAC, it would lead to industrial disputes besides causing conflicts between unions and workers which will eventually weaken the negotiating powers of the movement.
At the briefing, MTUC and MEF also told the PAS leadership that the Minister's actions in sidelining the NLAC violated Convention 144 (C144) of the International Labour Organisation which made it mandatory for Tripartite consultation.
Dato Abdul Halim emphasised that Kula Segaran had blatantly violated C144 although Malaysia had ratified the convention in 2002.
He said Parliament should not have abetted the Minister by passing the amendments which were directly violating the Convention which was supported by Putrajaya all these while.
In view of the fact that the Minister had abused his powers by violating C144, MTUC and MEF urged all senators to oppose the Bill when it is tabled in the Senate later this month.
Instead, the Senate should reject the Bill and send it back to the NLAC so that it is reviewed and amended with good intentions in the spirit of tripartitism involving the Ministry, MTUC and MEF.