No More New Recruitment Of Foreign Workers - Zahid
12 March 2016 Print page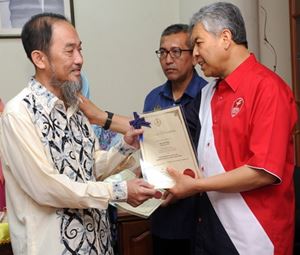 HUTAN MELINTANG, March 12 (Bernama) — The government has decided to stop the recruitment of new foreign workers with immediate effect, Deputy Prime Minister Datuk Seri Dr Ahmad Zahid Hamidi said.
However, he said the decision, which was made at a Cabinet meeting yesterday did not involve the domestic help or maid sector.
Ahmad Zahid said employers who wanted to hire foreign workers should recruit the existing foreign employees in the country including those whose permits had expired.
"They (employers) can also hire foreign workers who are not registered under the 6P programme (the Illegal Immigrant Comprehensive Settlement Programme)," he told reporters after presenting appointment letters to village heads in the Bagan Datoh parliamentary constituency for the 2016/2017 session, here today.
Ahmad Zahid who is also the Home Minister said following the Cabinet's decision, the issue of bringing 1.5 million Bangladeshi workers into the country could be considered 'closed'.
He said employers or agents who were found guilty of protecting illegal foreign workers would be subjected to whipping under the Immigration Act and Anti-Trafficking in Persons and Anti-Smuggling of Migrants (Atipsom) Act.
"Whipping will be meted out by courts because the punishment with fine has no effect as employers and agents still keep bringing in illegal foreign workers," he said.
Elaborating, Ahmad Zahid said the whipping sentence was aimed at dismissing all false allegations against the government, including the accusation that the government was trying to make a profit out of the recruitment process.
He said the government had given ample opportunities for employers to register their foreign workers through the rehiring programme that would expire on June 30.
Ahmad Zahid suggested that employers who wanted to hire foreign workers should submit their applications to the Malaysian Employers Federation; Malaysian Trades Union Congress (MTUC) and the Federation of Malaysian Manufacturers.
Earlier in his speech, Ahmad Zahid reminded all village heads that their appointment should come with trust and responsibility that must be fully exercised for the sake of the people.
"If we violate our ethics, we have to pay such a high price for the mistake," he said.
Source: Bernama