No apologies, but I feel sorry for minister
15 February 2020 Print page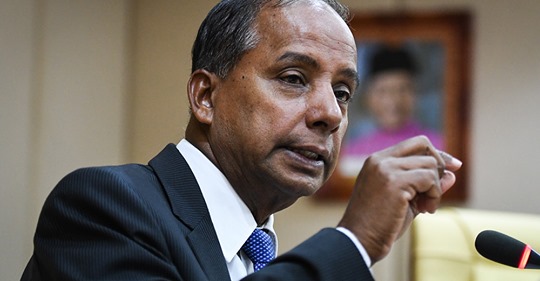 I'm bemused by Human Resources Minister M Kulasegaran's demand that I apologise for what he perceives as "misleading" Malaysians over a news report on the possibility of thousands of Pakistanis recruited to work as security guards in Malaysia.
I will not issue any such apology. However, I do feel sorry for the minister as he failed to comprehend the essence of my statement and ended up misrepresenting the facts, intentionally or otherwise.
On Feb 12, I said Kulasegaran (photo) would be the best person to seek clarification from the Home Ministry or the cabinet about a news report saying up to 150,000 Pakistan workers could find their way to Malaysia to work as security guards.
The report appeared credible, in that it cited the Pakistan High Commissioner to Malaysia Amna Baloch.
The report certainly worried many quarters in Malaysia, including MTUC, and more so, after Kulasegaran said he did not know anything about it.
As the minister charged with overseeing the labour sector and involved in the recruitment of foreign workers, I had said Kulasegaran should not wash his hands off the matter but instead, seek clarification from the Home Ministry or the cabinet if needed.
Seeking such clarification "quietly" is part of Kulasegaran's duty as Human Resources Minister and his collective responsibility as a member of the Pakatan Harapan cabinet.
Yet, sadly, he implied that by asking him to seek the clarification, I was demanding that he interfered in the running of the Home Ministry.
Such a notion is absurd and merely reflects the minister's inability to grasp a simple matter – which is that I merely asked him to help obtain the necessary clarification for the sake of the rakyat.
Instead of doing so, Kulasegaran chose to hurl wild and vindictive allegations against me, which only exposed his penchant for twisting the facts when attacking those outside his loyal band of "yes men".
What is wrong in asking Kulasegaran to verify this particular report as he is charged with a ministry that deals with a wide spectrum of matters involving workers, unions and foreign migrants?
Why must I apologise to him for asking him to do his job? Let me remind him that ministers are servants of the taxpayers and voters who put them up there.
The Home Ministry has powers to decide on any recruitment of foreign workers as security guards but surely the Human Resources Ministry has the right to seek clarification on such matters as it has a direct impact on many areas that come under its own purview.
If Kulasegaran is adamant that it has no right to seek any clarification from the Home Ministry, then one must wonder how are cabinet meetings conducted to achieve collective responsibility in decision-making.
After almost two years on the job, it appears that Kulasegaran has not learnt much on the importance of engaging the relevant ministries and ministers to help him do his job.
Maybe he is still reeling from the traumatic bashing he received from within the Harapan government and elsewhere for his outlandish proposal to bring in Africans to work in our plantations.
If he had bothered to consult the stakeholders, including the Home Ministry back then, he would have been better informed before making the proposal, only to see it promptly shot down by Prime Minister Dr Mahathir Mohamad.
So please do not feel threatened or insecure nor offer feeble excuses when you are asked to engage with your fellow cabinet ministers in seeking clarification on matters relevant to your ministry.
No one, least of all I, have asked you to usurp the powers of other ministries or interfere in their affairs.
Which is why I find your demand that I apologise over this 'Pakistan-gate' matter as laughable and totally off-track with your conduct, once again, unbecoming of that as a minister.