Mumbai man's daring escape from human slavery mafia in Malaysia
7 November 2014 Print page
By Bhupen Patel
Lokesh Sapaliga's 25-day ordeal started with a job offer at an oil rig in Malaysia, and ended in a factory where he toiled for 20 hours, ate food crawling with worms, and slept on bedbug-ridden mattresses, until he ran through a jungle to his freedom
Lokesh Sapaliga (27) heaved a sigh of relief when he touched down in Mumbai on October 23. Sapaliga had just returned from a hellhole in Malaysia, after being lured there on the pretext of a well-paying job on an oil rig and sold into slavery.
As he took his first free steps in more than three weeks, he recounted, in his mind, how he had toiled for 20 hours a day under inhuman conditions and escaped from a factory in a jungle.
Sapaliga's ordeal began in September, when he chanced upon a job posting on a classifieds website. He had then been working in the Gulf as an electrician. The ad, posted by one Ram Support Service, a placement agency based in Nallasopara, promised a job on an oil rig in Kuala Lumpur.
The owner of the agency, Narendra Kumar Yadav, promised the Andheri resident a handsome pay of Rs 50,000 to Rs 60,000. Lured by the money, Sapaliga quit his job and came to Mumbai to speak to Yadav.
"Yadav took Rs 1.7 lakh from me to arrange my visa, flight tickets and the continuous discharge certificate (CDC, a document required for someone who works on-board a ship). I boarded a flight on September 19 for Kuala Lumpur.
My visa had a proper stamp stating I was going to work on a ship, so there was no question of casting doubts upon the offer," recalled Sapaliga. Unfortunately, there was.
Factory slave
After reaching the Malaysian capital, Sapaliga met one Rajkaran Verma, a sub-agent, who stuffed him into the boot of a car and sold him off to the Malaysian human trafficking mafia.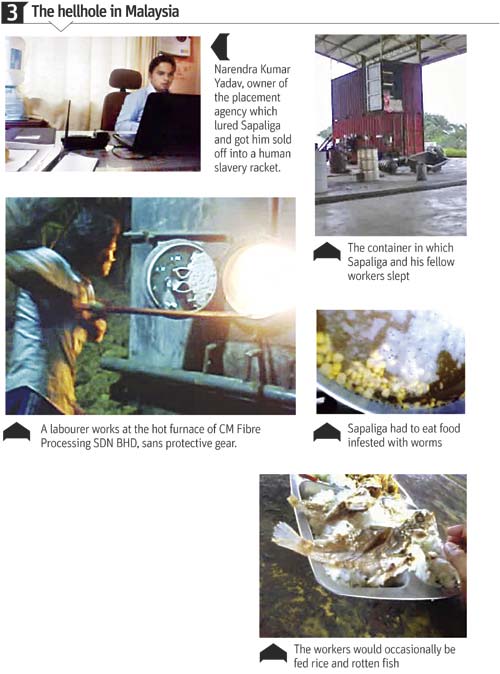 "The agents smuggled us into a unit of CM Fibre Processing SDN BHD, a factory based in Sibu, Malaysia. Since I was inside, they avoided checks on the way," said Sapaliga. On reaching there after a two-hour drive, the agents scooted off.
Sapaliga was shocked to see hundreds of labourers toiling in unhygienic and inhuman conditions for almost the entire day. Most were from India and Nepal; he was now one among them.
"We worked for 14, 18 and even 20 hours a day for a paltry sum of Rs 400. My hands and legs used to go numb from exhaustion. Slaves who dared to complain were thrashed by the factory guards," he recalled. In the few hours of respite workers got, they were accommodated in shipping containers.
Each 'room' had one fan, and 15-20 men competed for the little breeze that it threw their way. The mattresses were infested with bedbugs, and with a welding unit adjacent to the containers, it was nearly impossible to get any sleep. "We were also made to work night shifts without prior notice," he added.
Hungry and broken
There was nary a day when the labourers got enough food. Sapaliga told mid-day that they were fed rice and sabzi three times a day, but it was never enough. Moreover, these were stale meals, with worms competing for the food on the plate. The plates were also never washed.
To break the monotony, they would be served rice and rotten fish. But, everybody ate without complaining, for they wouldn't get any food if they did. Sapaliga also says there was no safety equipment or access to medical facilities. "Slaves who worked near the furnace had no helmets or safety gloves. As a result, many got injured but there was no medical help.
There was a Punjabi man who had broken his hand in an accident, but they made him work. Another worker had also sustained severe burn injuries while working near the furnace," he said. Sapalaga also suffered a head injury when an iron rod accidentally hit him.
The escape
Sapaliga worked in the fibre-processing unit from September 25 to October 20. Realising that he wouldn't last long there, with great difficulty, he bribed some men and made a phone call to his brother-in-law, Prakash Karkera, in Mumbai.
On hearing of his kin's suffering, Karkera landed straight at the office of the placement agency located in Solan Amit Shopping Centre, Nallasopara. The owner, Yadav, assured Karkera that his brother-in-law would be safe and back to India soon.
"Yadav threatened me that if I went to the police or the media, he would get Lokesh killed with the help of his connections in Malaysia," Karkera told this paper. However, the family continued to pressurise Yadav to bring Lokesh back, issuing threats of police complaints. It worked.
Verma, the Indian sub-agent, called up Sapaliga and told him they couldn't do much until he fled from the factory. Caught between the devil and the deep blue sea, Sapaliga took the risk and, in the wee hours of October 21, escaped from the unit while others were asleep.
"The factory is surrounded by a jungle. It was pitch dark and I somehow reached the highway, where I met Verma and his two associates. They had my passport and visa. Before I left for the airport, they made be sign an agreement stating that I was offered the job I desired by the placement agency and that I held no grouse against them.
I had to sign the document, or else they would've torn my passport and visa," he said. The men dropped him to Sibu airport, from where he took a flight to Kuala Lumpur. A day's halt later, he boarded a flight to Mumbai. On November 5, he lodged a complaint with the Nallasopara police. He had also clandestinely managed to document his experiences on his cellphone camera.
Cop speak
R Bundguzar, senior police inspector at Nallasopara police station, said, "We have received the complaint. It has been forwarded to an officer for investigation." Meanwhile, the placement agency, Ram Support Service, has shut shop. The owner has not even collected the deposit he paid the landlord for the space, and is currently absconding.
Rs 1.7 lakh
The amount Lokesh Sapaliga paid the placement agency for his visa, flight tickets and the continuous discharge certificate (CDC)
Source: Mid–Day