MTUC supports DPM proposal for increment in TVET graduate starting pay
29 March 2018 Print page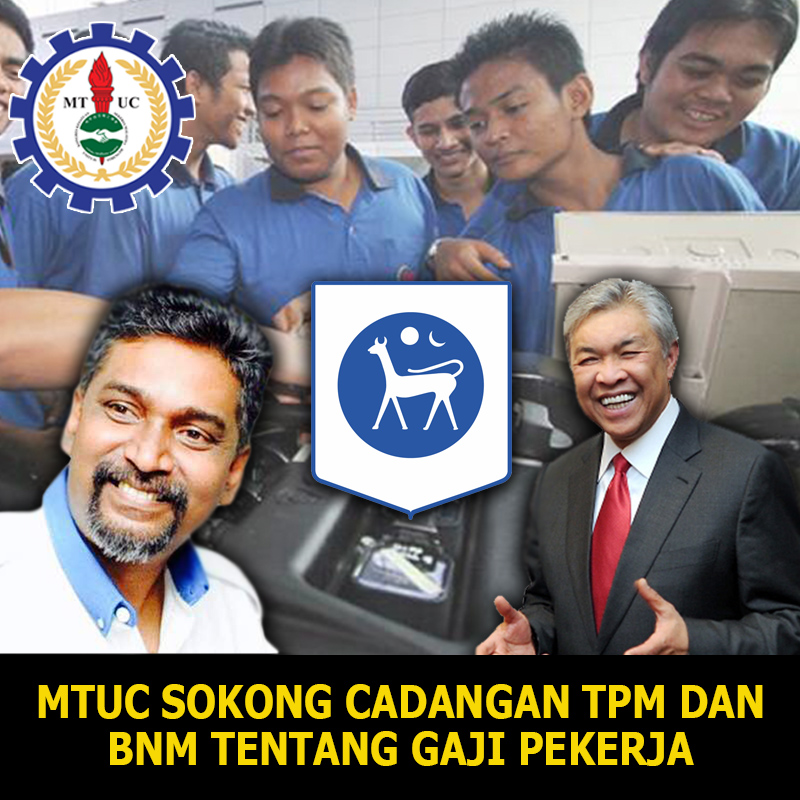 The Malaysia Trades Union Congress (MTUC) is in full support of the minimum starting salary for Technical and Vocational Education and Training (TVET) graduates as proposed by the Deputy Prime Minister Datuk Seri Dr Ahmad Zahid Hamidi last week but reminded the government that there needed to be a paradigm shift in the principles for remunerating, hence not leaving behind minimum wage earners, in order for Malaysians to realise its aim in becoming a "high-income society".
Its Secretary General J. Solomon said MTUC will give its fullest support for Datuk Seri Dr Zahidi Hamidi to implement his proposal that will raise the starting salary of skilled graduates up to RM3,500 from the current RM1,200.
"This legitimate increase will encourage more youth to pursue programmes under the TVET spectrum of courses and prevent qualified skilled Malaysian workers from leaving the country for better wages," said Solomon.
Solomon said employers in Kuala Lumpur, Penang and Johor Baru should start reviewing the salaries of workers as the proposal for living wage set by Bank Negara Malaysia (BNM) for the three state dwellers which ranged from RM2,700 for a single person to RM6,500 for a couple with two children.
The report launched today, describes the national bank's concept of living wage as "having the ability to meaningfully participate in society, enjoying the opportunity for personal & family development and embracing freedom from severe financial stress".
Solomon said such living wage would also discourage the import of migrant workers and increase dependency on the local work force.
"After 60 years of independence and self-governance, Malaysians need a paradigm shift in our culture and mindset that will influence the way we live life and take care of one another, that will help us evolve to truly becoming a high-income society.
The Government may also consider introducing minimum wage based on occupations to ensure equitable income based on their skills.
"In order to realise the country's vision 2020 of a high-income society, it is necessary for the government and corporations to ensure that the wealth and profits of the nation is fairly distributed to close the income gap and build a more equitable and decent society," said Solomon.