Minimum wage cannot stay stagnant, says Cuepacs
3 March 2012 Print page
BY SHAZWAN MUSTAFA KAMAL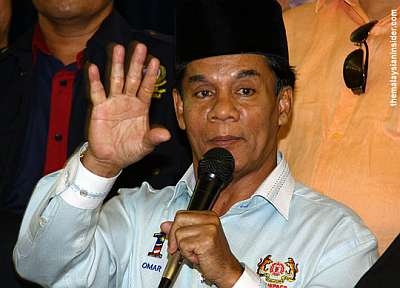 KUALA LUMPUR, March 3 – Cuepacs welcomed today news of the Najib administration's decision to set minimum wage at below RM1,000 for 3.2 million workers in the private sector but said the amount must not stay stagnant.
The Congress of Unions of Employees in the Public and Civil Services (Cuepacs) is the umbrella body for all government servants and have been strong proponents for a minimum wage policy.
The Malaysian Insider reported earlier today that there will be there will be a RM100 difference between states in the Malay peninsula and Sabah and Sarawak and that the government has decided on a regional difference in wages rather than sectoral differences although some sectors will be excluded from the policy.
The Cabinet's decision however is lower than what most labour unions have been asking for, which is between RM1,200 and RM1,500 a month.
The Malaysian Insider understands the government will set minimum wage at between RM800 and RM1,000 a month.
"There has to be a starting point. That is what has been demanded, at least RM920 for minimum wage," Cuepacs president Datuk Omar Osman (picture) told The Malaysian Insider.
"But at the same time, there has to be a benchmark. There has to be improvements and review of minimum wage, you cannot have stagnant wages after this, it has to gradually go up.
"The wage figure should be standardised. There should not be any difference between wages in Peninsular Malaysia and Sabah, Sarawak.
"Costs of living is uncertain, it is increasing. It is unfair to have different wages for those in Sabah and Sarawak," Omar stressed.
He said that although minimum wage rates for both the government and private sector needed to take into account the "limits of industries and the government", having a set amount would work towards protecting workers' rights in both sectors.
"I disagree with people saying there is no need for minimum wage. No matter where you are in this world there has to be minimum wage. You do not want a situation where workers become victims to their employers who pay them scraps," added the Cuepacs president.
He said however measurements on minimum wage rates for the private sector was slightly more "complex" than the civil service – whereby rates differed according to clusters and types of industries.
"But private industries can afford to put minimum wage, in fact they must," said Omar.
The government has revamped the civil service pay since January 1 but it has run into problems after Omar and other government workers within Cuepacs complained the pay hike was uneven with some 2,000 senior officers getting a huge rise while the 1.3 million others received paltry increments. Prime Minister Datuk Seri Najib Razak has ordered a review which has to be ready by April 16.
"There will be an announcement soon on the discussions on the review," Omar said today.
Private and government sector unions have been asking for minimum pay for years but employers say it will not be constructive in the local market especially with competition from regional economies that use cheap labour. But Najib's target of a high-income nation by 2020 has prompted the government to review pay scales for all sectors.
Former Prime Minister Tun Dr Mahathir Mohamad weighed in yesterday on the minimum wage issue, warning that Malaysia may become bankrupt as is happening now in the West if the federal government caves in to public pressure on the matter.
Still influential despite having retired from office in 2003, he noted that the federal government's seeming haste to adopt a minimum wage policy without taking into account the spike in public holidays to include the weekends and the holy days of all major religions was a serious risk to the country's economy.
He described the West as bankrupt because they were unable to sustain the practice of paying large salaries to employees despite working them less, especially with the Asian markets becoming more competitive.
However, Human Resources Minister Datuk Seri Dr S. Subramaniam said last month that the wage structure was proposed after taking into account studies by the World Bank, which included factors such as the cost of living, poverty line index, median range, productivity and unemployment rate.
The new rates will have a bigger impact in Sabah as the average salary there is RM577, followed by Sarawak, at RM758. In the peninsula, the average minimum wage is RM1,131. Close to 33 per cent of workers in the private sector are said to be earning less than RM700 a month, which is below the poverty line, according to a New Straits Times report.
"If we keep the wage between RM800 and RM1,000, it will not have any negative impact on drawing investments, but if it goes above RM1,000, then it may cause a negative impact on the economy," he said then, adding a median wage policy would be established in stages, with a grace period given to employers to restructure their wage schemes once the new minimum wage was implemented.
He added that this would be reviewed once every two years, reminding employers that they risked a maximum RM10,000 fine per worker if they failed to comply with the policy.
Source: The Malaysian Insider