Maids Claim Fatal Abuse at Malaysian Depot
15 August 2016 Print page
BY ZSOMBOR PETER AND KUCH NAREN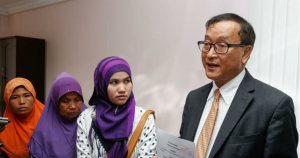 The Cambodian Embassy in Malaysia has been ordered to search for citizens at a notorious detention depot for migrant workers in the country's north where two recently returned maids claim they saw prisoners—including fellow Cambodians—severely beaten by guards and even die, possibly from their injuries.
The allegations come amid Cambodia's efforts to reopen a pipeline for women wanting to work as maids in Malaysia, some five years after Prime Minister Hun Sen shuttered legal channels because of mounting accounts of abuse at the hands of both local recruitment agencies and Malaysian households.
The Labor Ministry says it is still working out the details of the new deal but refuses to release a copy of the memorandum of understanding it signed with Malaysia in December, or to discuss what safety measures will be included.
The latest reports of physical abuse came from two Cambodian women repatriated from Malaysia in mid-June by Cambodian labor rights organization Central, which paid for their flights home. Central asked that their names not be used for their safety.
One of the women, interviewed by reporters last month, said she had been working as a domestic maid in Malaysia for nearly two years when she was arrested in January, after fleeing the physical abuse of her last employer. She said the police sent her to Juru, a detention depot for migrant workers in Penang state, about 300 km north of Kuala Lumpur along Malaysia's west coast.
But the alleged abuse did not end there.
"At the prison, I was beaten and kicked for not understanding the prison officers well," she said.
The woman said she was actually one of the lucky ones, her limited Malay and English making her useful enough to the depot staff to spare her the worst of their attacks.
"Others, like the Vietnamese, Thai, Indonesian and Laotian prisoners, were badly tortured," she said. "They were pushed hard against the wall or had their heads knocked against the wall. There was an officer called Ma Pon who always punched and kicked us."
"I witnessed two Cambodians and a Vietnamese girl die at the prison after they were repeatedly hit, kicked and punched in the face and chest. The three were badly tortured and I found them dead the next morning since we slept in the same block," she said. "When I woke up, I tried to wake them, but they were already dead."
She said depot staff also asked her to accompany other detainees sent to a local hospital for treatment so that she could translate, and that she saw four more women die there—three Cambodians and one Vietnamese.
"So I witnessed five Cambodians and two Vietnamese die," she said.
"The torture happened because prisoners didn't speak Malaysian, so we didn't understand them," she added. "Me, I could speak some English so I was luckier than others."
Central picked her up at the Phnom Penh International Airport in June along with another woman released from Juru at the same time. But the second woman, wary of the NGO's staff, insisted on getting out of their van after it departed the airport without leaving an address or phone number and has not been heard from since, said Dy Thehoya, a Central program officer.
But before leaving, he said, the second woman said she ended up at Juru after fleeing her own abusive employer and corroborated the other woman's account of the physical abuse inside the detention depot.
Mr. Thehoya said the second woman did not accompany any of the detainees to the local hospital, as the other woman had. But as for the alleged abuses and deaths inside Juru, he said, "she told us the same things."
He said Central learned of the two women from Bunthel Thuok, first secretary of the Cambodian Embassy in Kuala Lumpur, who called the NGO asking for help getting them back home. Mr. Thuok, he said, told him that the staff at Juru called him to let him know that the women had served their time there and were ready to leave.
Mr. Thehoya said he told Mr. Thuok about the deaths and physical abuse the women said they saw at Juru and urged the embassy to investigate. "But he always replied to me, 'We don't have enough staff and budget [because] it is very far from KL,'" he said.
A man who answered Mr. Thuok's mobile phone last month hung up on a reporter and the number has not been answered since. No one has answered the embassy's listed phone numbers for the past two weeks, and neither Mr. Thuok nor other embassy officials have replied to emails requesting comment.
Earlier this month, Foreign Affairs Ministry spokesman Chum Sounry said he did not know if the ministry knew of the alleged abuses at Juru and that he would find out. Then on Thursday, two days after a reporter emailed Mr. Sounry with details about the case, the ministry issued a statement citing "information" about detainees at Juru and announcing that the Cambodian Embassy in Malaysia had been ordered to investigate.
Mr. Sounry, who endorsed the statement, did not reply to an email asking for details about the probe and could not be reached by telephone on Sunday.
Chea Phally, deputy director of the Interior Ministry's anti-human trafficking department, said it was standard procedure for the Ministry of Foreign Affairs to inform his agency about trafficking victims when it was involved in getting them back to Cambodia. But he said he had no records of either of the two women recently released from Juru.
Human rights workers in Malaysia say conditions at Juru and other detention depots like it around the country are well known to be poor and often oppressive.
"Migrant workers, refugees, stateless persons and migrants who are waiting to be deported will be placed in the detention centers," said Aegile Fernandez of the Malaysian NGO Tenaganita. "They are overcrowded, have little food given and minimum medical attention and of course abuses and rights violations."
James Nayagam, who served on the government-mandated Human Rights Commission of Malaysia from 2010 until earlier this year, said Juru stood out from the others.
"Juru is the worst and [most] deplorable detention camp ever—not suitable for human beings," he said.
"I have made reports on the condition," he added.
Though Cambodians have continued to slip into Malaysia to work as maids since the 2011 ban, like the two women who returned in June, that traffic appears set to mushroom.
According to Malaysia's state-run news agency, Bernama, Mr. Hun Sen received a positive response when he urged his Malaysian counterpart, Najib Razak, to once again start accepting maids from Cambodia during a visit to the country in June. Only a month before, Indonesia, another popular source of Malaysia's maids, announced that it would stop sending domestic workers to the country because of its own worries that they would be abused.
The Labor Ministry says Cambodia's new deal with Malaysia would make the practice much safer. But it refuses to release the memorandum the two countries signed in December. It has said that a database would be maintained to keep track of the maids, but again declined to give details.
Central director Moeun Tola said Cambodia was clearly not ready to ensure that its maids in Malaysia were safe.
"I think what the Cambodian government has been doing is still premature, not enough yet to respond [to] issues happening to Cambodian workers in Malaysia," he said.
"Cambodia should set up [an] effective monitor mechanism to inspect the conditions of those Cambodians who work in Malaysia and provide adequate assistance to them," he said. "The recruitment agents should be seriously and transparently pressured to secure the respect of workers and maids they sent or deployed in Malaysia."
Source: Cambodia Daily