Land lost, debt-ridden, yet more flow from Bangladesh
23 December 2015 Print page
Aidila Razak
SPECIAL REPORT If things are so bad in Malaysia, then why do Bangladeshis still flock in droves to our shores?Anti-human trafficking rights expert Matthew Friedman said the answer is simple: returning home a failure is embarrassing, so people lie.
"A lot of people lie about it (work and living conditions in receiving countries). They don't want people to know they have been deceived," Friedman told journalists at a conference on migration in Singapore.
"It encourages many people to want to leave their home countries. One says had a good time, another person says he has a good time, and yet another had a good time too and new migrants go – although they also know some of the horror stories," he said.
After about two decades of working in the area of anti-human trafficking, Friedman founded the organisation Mekong Club, with the aim of helping the private sector look at their supply chain to identify and fix areas that could support labour brokerage.
While based in Bangladesh in the 1990s, Friedman surveyed 750 men who migrated overseas for work and found that most were from what he termed the "new middle class" – people who were steadily employed, but hoped to do better overseas.
Nasim Ahmed from Dhaka-based migrant rights NGO Ovibashi Karmi Annayan Program (Okup) believes this is a pipe dream.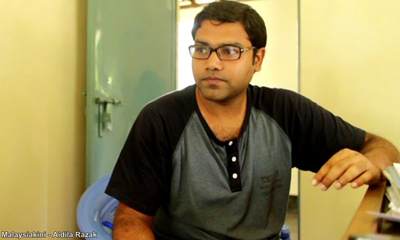 As a field officer, he has spoken to hundreds of returnees from Malaysia who left in the more recent wave of migration.
"Not a single person has managed to buy back the land they sold," Nasim (photo) said.
Most either sell off land or take up loans at high interest rates to pay for the initial costs of migration. Some even take loans from the government and NGOs, which offer money at more reasonable interest rates to help potential migrants.
For some NGOs, migration loans are an interim measure to stop would-be migrants from going to loan sharks.
Migration a source of government income
The government sees migration as a source of income. World Bank data shows remittances made up 9.2 percent of Bangladesh's GDP in 2013.
Remittance is also big business for the financial sector. Bangladesh's City Bank Ltd (CBL) opened its third outlet in Kuala Lumpur last year, and estimates that workers remit about RM1 billion every year.
Although the sea route is a cheaper option, Okup's Nasim said many cannot stomach being on the vast ocean in a small trawler and therefore opt to go by air.
Despite paying up to 400,000 taka (RM20,000) – close to double the cost of migration by sea, and five times the cost of the Bangladeshi government permits – there are no guarantees.
"There are four, five, or even six levels of agents and sub-agents and middlemen… each level takes about 10 percent.
"A person in a village will go to a market and say 'I'm thinking of going to Malaysia' and this spreads to a village middleman, who conveys it to a sub-agent, who tells it to the main agent, and he recruits the man and passes the new recruit to a sending agent in Dhaka," Nasim said.
Migrants are promised jobs in air-conditioned rooms where they can earn up to RM4,000 a month, he says. Most end up earning less than half of that.
"There is no accurate information. There is this Malaysian dream that they sell. They sell the Petronas Twin Towers, the metropolitan city and the abundance of opportunity," he said.
And there is no recourse for those who are deceived.
Political links
Middlemen are often politically-linked, wealthy and influential at local levels. Even if a returnee manages to file a case, there is usually little documentation to support his claim.
Okup advises migrants to register with government offices set up in every district so they will be in a database from which city agents recruit.
Dhaka and Putrajaya are working out the arrangements to send up to 1.5 million workers to Malaysia – and the workers will be recruited from this database.
In this new arrangement, the Bangladeshi government wants to cap the cost of migration to only three months' salary, or about RM3,000.
"This is doable," Bangladesh Association of International Recruitment Agencies (Baira) vice-president Ali Haider Chowdury (photo) said.
Yet, Real Time Networking, a Malaysian firm that earlier eyed the monopoly deal for a registration and management system that is already endorsed by Baira, said it aims to charge recruitment agencies a RM3,000 fee for the one-stop system.
The deal is still pending, but Real Time Networking, owned by Home Minister Ahmad Zahid Hamidi's brother, is no longer the favourite.
'All agents lie'
Nasim admits the database from which Baira agencies will recruit will not guarantee that middlemen are cut out.
There is also little trust in the government bureaucracy among these migrants, who are in a hurry to make it.
Nasim said many complain that all they hear, after registering on the database, is silence.
"All agents lie. There is not a single good agent," said Nazmun – a successful returned migrant – but he believes there is no other way.
Even if one makes his own way to Dhaka to the main agent, Nazmun said, one can wait up to three years.
This would mean travelling back and forth from the home village to the city, without any certainty of securing the visa.
"There is no choice."
AIDILA RAZAK is a member of the Malaysiakini Team. This four-part series was written as part of the Asia Journalism Fellowship, supported by the Temasek Foundation.
Source: Malaysiakini