Is our future threatened by 'election projects'?
2 September 2017 Print page
MPs Wong Chen and Charles Santiago say they think so.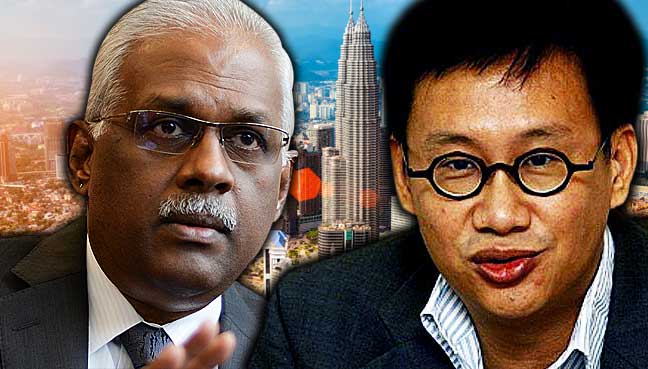 PETALING JAYA: Opposition MPs Wong Chen and Charles Santiago have accused the government of putting the future of Malaysians at risk with mega projects aimed at impressing voters ahead of the 14th general election.
Wong, the MP for Kelana Jaya, alleged that the government was trying to give the impression that the country was experiencing an infrastructure boom and was being reckless because the projects could end up being financially disastrous.
"For example, the current China-led mega projects could cost up to RM150 billion in total," he said. "The East Coast Rail Link (ECRL) and the Kuala Lumpur-Singapore High-Speed Rail (HSR) projects, taken together, already account for close to RM100 billion."
Wong said both the projects would be recorded as unforeseeable liabilities and would represent about 11% of Malaysia's gross domestic product (GDP). "This will make the total debt exposure at around a whopping RM1.1 trillion or 85% of GDP."
He said the ECRL project, especially, had the potential of being overpriced and economically useless.
"This pre-election hasty infrastructure spending binge will thus guarantee a difficult future for Malaysians," he added.
Santiago alleged that these projects were intended as contributors to the feel-good factor that the government believed could help it win the coming election.
"But building mega projects that have the possibility of becoming white elephants will only increase the country's debt," said the Klang MP.
"Let's take the recent SEA Games. Who's going to pay for the maintenance of the various facilities and infrastructure built for the games? The country has to keep paying."
Instead of concentrating on projects that the public would eventually have to keep paying for, he said, the government should focus on efforts that would result in better wages for Malaysian workers.
He said the typical Malaysian today was struggling to put food on the table.
He also said Malaysians could expect an increase in the goods and services tax as well as other measures the government would take to help it maintain a balanced budget if it continued developing mega projects.
The other measures would include a further cut in subsidies for basic goods, he added.
"So the cost of living will go higher. And stagnant low wages will just make it even more difficult for workers to survive."
The Edge reported earlier that "election projects" might further inflate government debt.
Quoting RAM Ratings Services Bhd, it said debts guaranteed by the government stood at 15.2% of GDP as of 2016.
The latest data from Bank Negara Malaysia showed that government-guaranteed debts was at RM195.69 billion.
"The big problem of having a huge debt is that the repayments would also be high," Santiago said. "So you have to pull money from somewhere to channel into debt financing.
"What debt financing means in real terms is that there would be less money going towards critical sectors like healthcare, education and welfare. It means allocations to core ministries will be cut."
Sources: http://www.freemalaysiatoday.com/category/nation/2017/09/01/is-our-future-threatened-by-election-projects/