Good Pay Luring Illegal Immigrants To Cameron Highlands In Droves
10 December 2014 Print page
By Syed Iylia Hariz Syed Izman
CAMERON HIGHLANDS (Bernama) — The offer of attractive wages is among the main draw of illegal immigrants to flood Cameron Highlands.
Ringlet district headman, Shamzan Idris said the lack of local workers in the labour intensive vegetable and flower farms lured illegal immigrants with monthly income of between RM1,000 to RM2,000.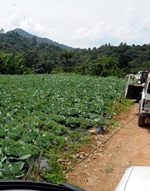 "This 'goldmine' eventually enticed illegal immigrants in droves to work at the highlands over the years," he told Bernama here today.
Shamzan said in Ringket alone, there are more than 600 vegetable and flower farm operators and they badly needed workers.
As such he proposed the government find an alternative solution to encourage locals take up the jobs in Cameron Highlands to prevent illegal immigrants from dominating the employment market here.
Shamzan said among the factors locals did not like to work at Cameron Highlands were wage factor, menial work and the high cost of living.
In this regard, Cameron Highlands Vegetable Growers Association secretary, Chay Ee Mong said the attractive wages offered by vegetable farmers was due to the lack of workers.
He said they had to bargain with foreign workers to secure their services as locals were not interested to work as farm labourers.
"How to find locals for the vegetable farms when even foreign workers are insufficient, if foreign workers were paid the minimum salary of RM900, they will run away in no time.
"This is why operators have to pay them high wages, otherwise who will work," he said.
The association has more than 2,400 vegetable farm operators.
Bernama managed to interview a Filipino worker, Maria, 38, who has been working as a reflexology masseur in Brinchang.
She started as a vegetable farm worker in Cameron Highlands for almost four years before becoming a waitress at a food stall with a salary of RM1,000 and now she earns up to RM1,200 as a masseur.
Foreign workers turnover is high as workers move from job to job for the highest pay.
Maria said among the factors which kept her working in Cameron Highlands is the ample employment opportunities with attractive wages.
"The money is good, I like Cameron Highlands because its easy to find work. My (elder) sister also works here and she was the one who brought me here to Cameron Highlands," she said.
Source: BERNAMA