Execs steel for hard times after sudden termination
18 April 2016 Print page
BY ALLISON LAI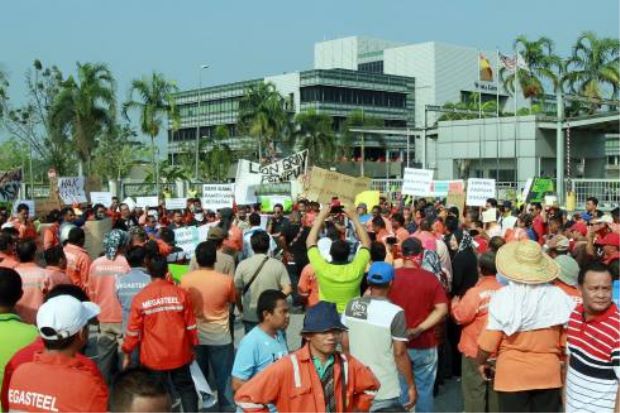 KUALA LANGAT: A group of executives were left in the lurch after their services were terminated with less than 24 hours' notice by Megasteel Sdn Bhd and Lion DRI Sdn Bhd.
Jamilah Abdul Rahman, 34, a senior executive at Lion DRI's quality assurance department, said it is untimely for the company to stop her service now that she is 34 weeks' pregnant with her second child.
"I have been working for them for 10 years and started as an executive.
"The extremely short notice was a rude shock to many of us. I am worried about what happens next, especially because I am expecting a baby soon.
"I can only start looking for another job after my confinement," she said at a protest staged outside Wisma Lion in Banting, near here, on Monday.
The protest saw more than 200 workers holding placards and banners and chanting slogans, expressing their worries and demanding for proper compensation for their retrenchment.
Jamilah, from Olak Rempit, here, said she initially heard about possible lay-offs for the executives from a meeting in February.
"However, a memo was issued later saying that all executives would be terminated, while non-executives would be laid off, without stating any time frame.
"Now, we have been suddenly given termination notices.
"It gives us no time to make preparations," she said, adding that it is going to be a challenge to look for a job with the current economy outlook.
Mechanical executive Raja Badrulizamman Raja Mad Nasir, 35, said it is unfair for Megasteel to give such a short notice to terminate some 90 executives who have served for five years and more citing significant deterioration of business performance and environment.
"The sudden termination has made things difficult for us, who mostly have families to provide for.
"It is also unfair to give out the three-month payment in lieu of termination notice in instalments," he said, adding that they had yet to receive their March salaries.
Production executive Norzaidi Nekmat, 34, questioned why contract staff and foreign workers still have jobs in the companies.
"This is unfair. The management should have discussed its problems with us.
"I have no choice but to rely on my savings and my wife to support the family temporarily," said the father of two.
Kuala Langat MP Abdullah Sani Abdul Hamid, who is also MTUC acting president, described the action of the companies as "cruel".
He said the companies should not have terminated the workers on such short notice and no room for further discussions.
"Apart from being unfair, this is also a violation of labour laws.
Abdullah Sani later held talks the management of the companies together with other representatives, including Selangor Labour Department director Mohd Asri Abdul Wahab.
Source: The Star Online