27-2-2019, Wisma MTUC
1 March 2019 Print page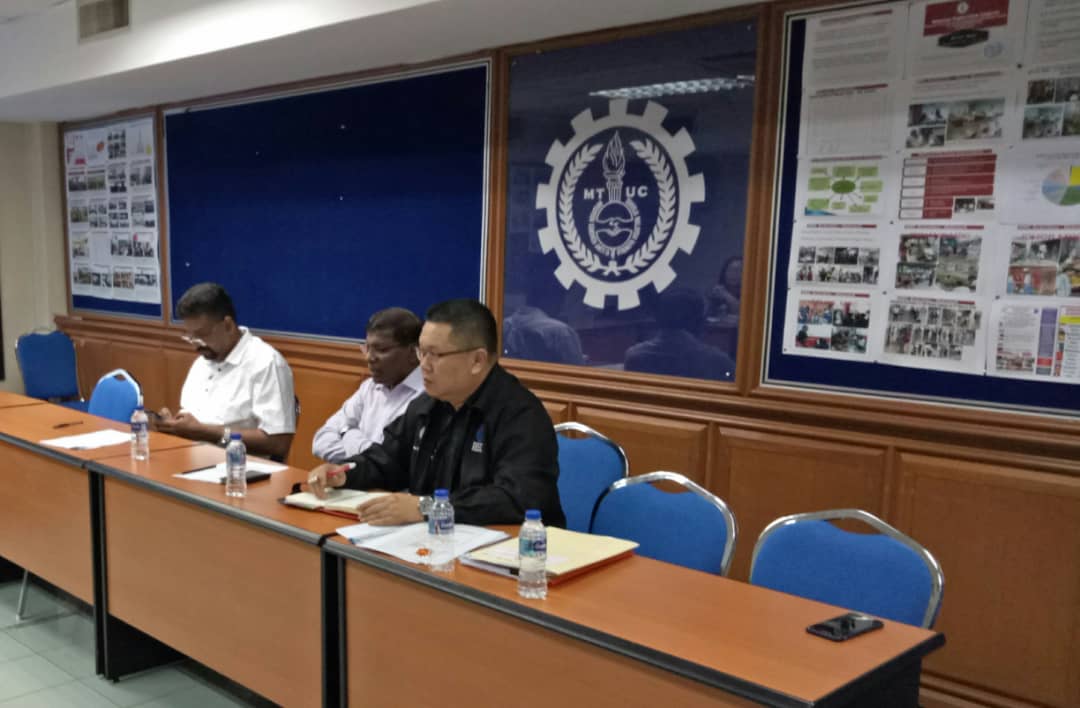 Interview by ILO For The Background Studies For The National Action Plans on Forced Labour and Worst Forms of Child Labour
The ILO project "From Protocol to Practice: A Bridge to Global Action on Forced Labour" (Bridge) is supporting the development of Malaysian National Action Plans (NAPs) on forced labour and child labour.
This is part of ILO's technical support in improving the country's application of ratified ILO fundamental Conventions on Minimum Age Convention (C138), Worst Forms of Child Labour Convention (C182), and Forced Labour Convention (C29) and in promoting the ratification of the ILO Forced Labour Protocol.
An interview session was held today at Wisma MTUC this morning. The ILO Kuala Lumpur representatives are Ms Jodelen Mitra together with Mr Terence Too – Fellow-Social Policy Division from Institute of Strategic and International Studies and Dr Andika Ab Wahab – Fellow from Universiti Kebangsaan Malaysia.
MTUC was represented by Bro J Solomon, Secretary General, Bro K Soma, Assistant Secretary and Bro Zul Thye, MTUC MRC Coordinator.
The 2018 ILO "Situation and Gap Analysis on Malaysian Legislation, Policies, and Programmes and ILO Forced Labour Convention and Protocol" encourages Malaysia to develop these NAPs on forced labour and the worst forms of child labour. National action plans provide a comprehensive multi-stakeholder approach to addressing issues of forced labour and child labour and they contribute to stronger implementation of legislation and policies, while providing prevention and protection measures. The process is guided by ILO's guidelines and experiences on formulating NAPs.
Bro J Solomon informed that for the ILO to carry out the survey on the worst form of child labour with the appointed consultant in Malaysia it is important to show the evidences of such abuses and statistics before a survey is conducted on the abuses.
It is important also to have evidence for us to create an awareness of the issue.
MTUC has not received any form of such report and is unable to participate in the survey.
MTUC do not want to see surveys done to tarnish the image of Malaysia by the international community which will jeopardise the livelihood of Workers in Malaysia.
MTUC suggest that ILO should introduce projects which have direct impact on workers on a daily basis which is actually a pressing issue to workers in Malaysia.
The meeting today is only discussing about the Force Labour. We have received reports on pockets of issues to MTUC, especially from the migrant workers which is addressed by MRC MTUC.
MTUC have expertises in handling all kinds of force labour and we will be the first organisation to condemn such action if it is brought to our attention.