26-2-2019, Wisma MTUC
27 February 2019 Print page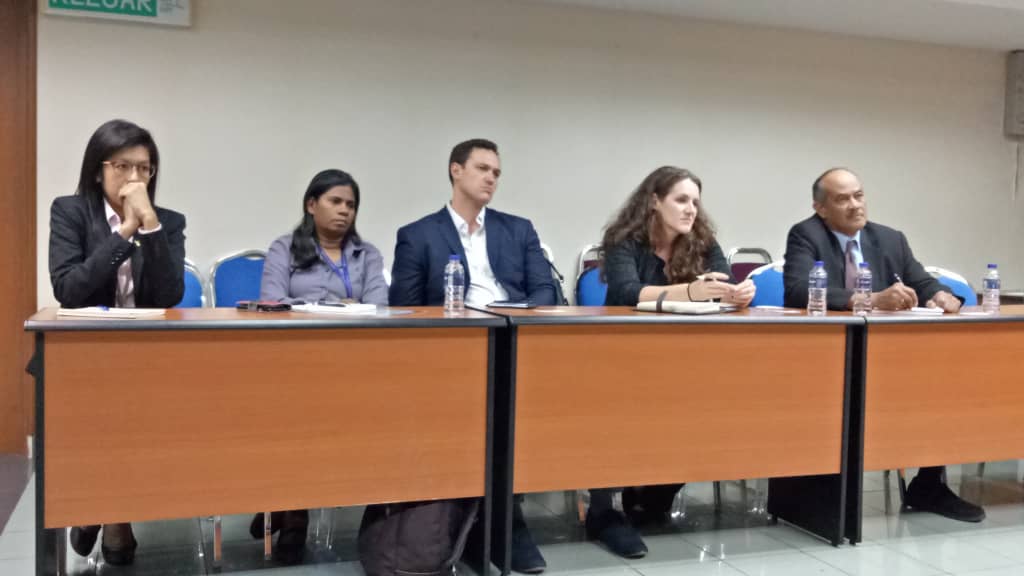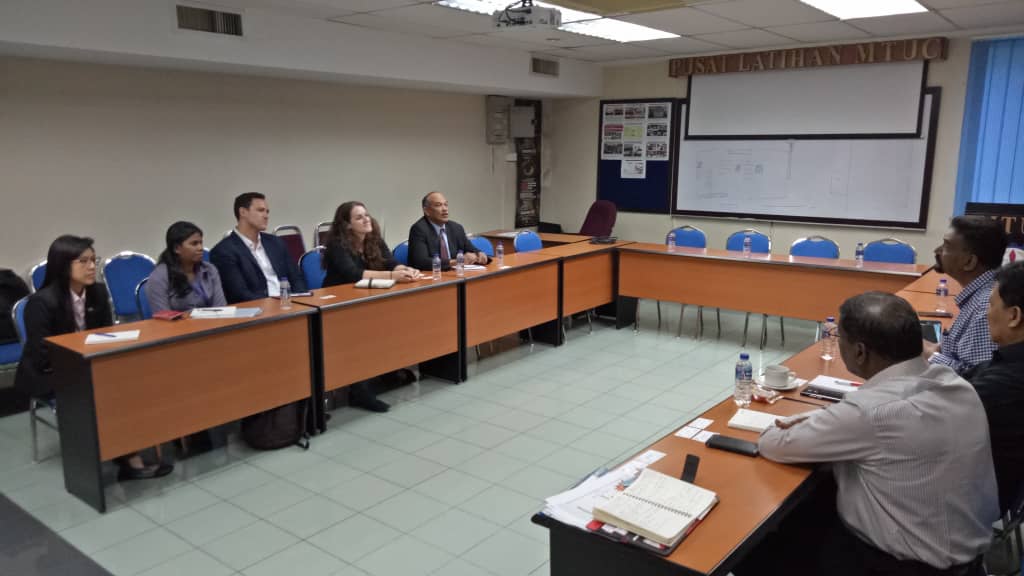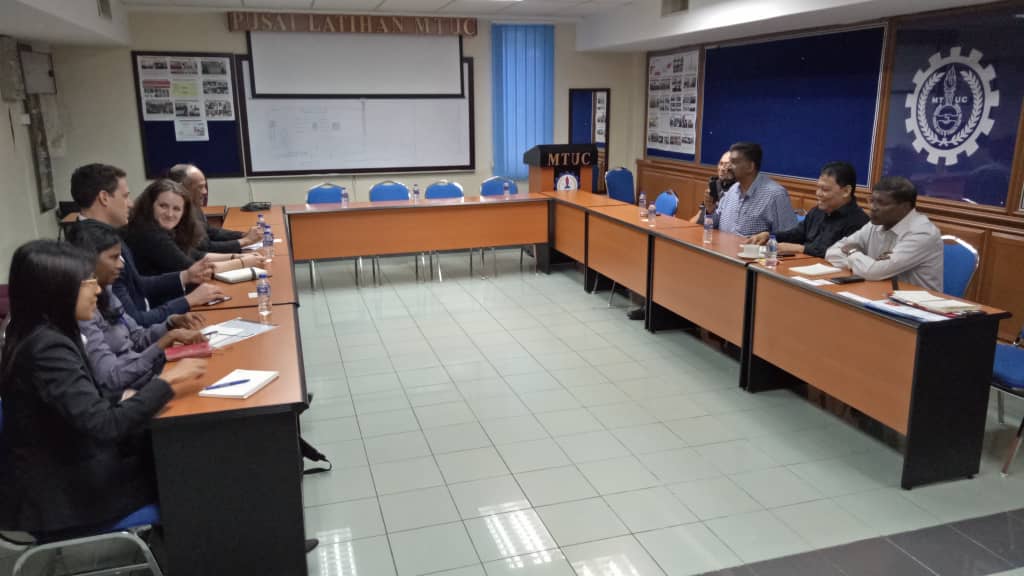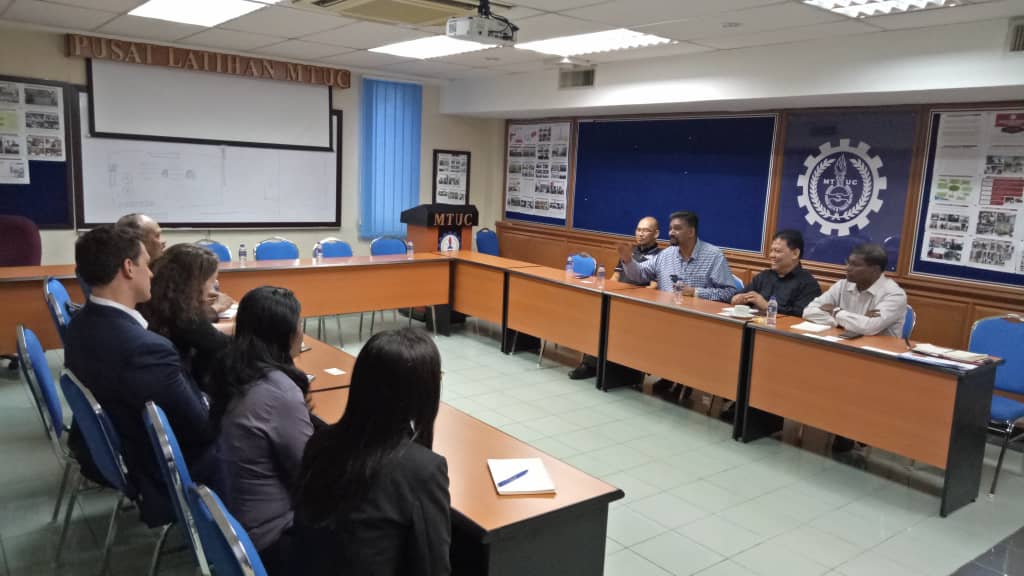 MTUC received a delegation from the US Department of State comprising Mr Keith L Goddard, International Relations Officer-Office of Trade and Labor Affairs from US Department of Labor, Ms Sarah A Morgan,Foreign Affairs Officer from US Department of State-Bureau of Democracy,Human Rights, And Labor and Mr Andrew Leyva, Political Officer from Embassy of the United States of America.
The ILO Kuala Lumpur representatives are Ms Dominique and Ms Florida.
MTUC was represented by Bro Mohd Jaafar Majid, Deputy President, Bro J Solomon, Secretary General, Bro Effendy, Financial Secretary, Bro K Soma, Assistant Secretary MTUC, and Bro Zul Thye, MTUC MRC Coordinator.
Their visit is to have a better understanding of MTUC MRC / ILO collaboration on the the Migrant Workers Empowerment & Advocacy (MWEA) and Labout Law Reform (LLR) Projects as they are one of the donors to ILO.
Among the discussions during the meeting are discussions about Convention 87 – Freedom of Association, Convention, 98 – Rights To Organize and Collective Bargaining, Current activities for the Labour Law Reform project and Migrant Resource Centres in Malaysia.
Bro J Solomon stressed the importance to engage all the stake holders and promote social dialogue and thread cautiously of how their funds are expanded to assist migrant workers.
He advised the US Dept to understand the fundamental principles of organising migrant workers meant organising them into trade unions and not merely organising a picnic for them.
Therefore only trade unions can organise workers and commence collective bargaining therefore their funds must be expanded to MTUC not to organisations which has no relevance to trade unions or no legitimate right to negotiate a collective agreement.
The migrant workers should have have long term protection and not short term artificial satisfaction.
MTUC also do admit there are pockets of exploitation and force labour in Malaysia as it exist in all countries.
Any discovery of such wrong doings should be exposed to MTUC and not merely be carried in foreign media without the knowledge of MTUC with the intention of tarnishing the image of Malaysia when the government has agreed to take action on such wrong doings.
The objective is to resolve the issue raised as no country in the world is free from exploitation and force labour on workers.
Bro J Solomon also stressed that MTUC will not condone any organisations or countries who are sabotaging Malaysian products especially the palm oil without any valid reasons.
As such action will affect the livelihoods of thousands of Malaysian workers.
MTUC MRC also presented the case management which has been handled for the past 14 months and the number of outreach programs that been carried out.
All the informations had been printed out and distrubuted to the visitors.
The US delegation welcomed our views and concerns and will address it accordingly.