Zahid causes stir in Dhaka by putting off workers' MoU
12 November 2015 Print page
Home Minister Ahmad Zahid Hamidi is causing a stir in Bangladesh after he postponed the much-awaited inking of the bilateral deal for the recruitment of 1.5 million Bangladeshi workers by Malaysia.
Zahid did so after sending a letter to the Expatriates' Welfare and Overseas Employment Ministry of Bangladesh, insisting that a 'selected Malaysian company's proposal' be included in the memorandum of understanding (MoU)'.
"I hereby request that Your Honorouble to incorporate the selected Malaysian company's proposal in the draft MoU that is currently being prepared.
"In view of the above, kindly ignore all earlier arrangements made until we finalise this," Zahid (photo), who is also deputy prime minister, said in the letter dated Nov 6, which was sighted by Malaysiakini.
He did not specify which firm he was referring to, but it is believed that the company is Synerflux.
On Sept 21, Wisma Putra, in a letter to the Bangladeshi High Commissioner in Kuala Lumpur, which was sighted by Malaysiakini, said Synerflux is appointed as the 'sole and exclusive entity' to run a centralised management system for recruited Bangladeshi workers.
Last month, Zahid in a written reply to Parliament said the ministry 'has chosen Synerflux after evaluating its proposal and early discussions with the Home Ministry and the Immigration Department, based on the proposed online intake of Bangladeshi workers concept'.
The issue hit headlines when Zahid's brother Abdul Hakim Hamidi's firm Real Time Networking was among those in talks to provide the service, which could see each recruited worker charged a fee of RM3,000.
Zahid later told Parliament that his brother's firm will not be appointed.
The foreign worker online management system was previously provided by Bestinet, but the firm was suspended after recruitment agents locally and abroad complained of high fees.
Bestinet linked with Synerflux
Malaysiakini's checks, however, showed that Synerflux is linked to Bestinet, via another firm, JR Joint Resources.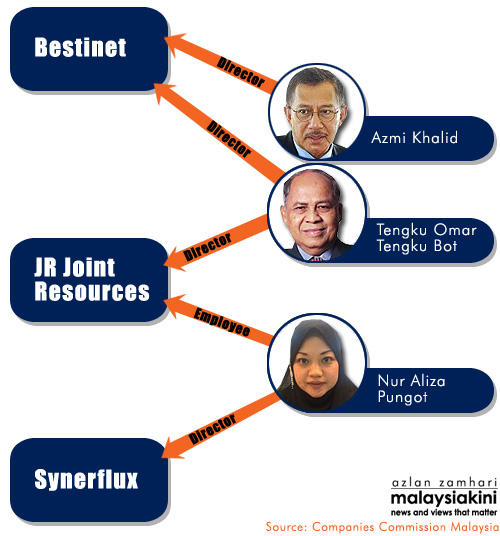 Bestinet's directors include former home minister Azmi Khalid and former Labour Department director Tengku Omar Tengku Bot.
Tengku Omar is also a director at JR Joint Resources, the company in which Synerflux director Nor Aliza Pungot works.
Malaysiakini has contacted Synerflux, JR Joint Resources and Bestinet for comment.
Synerflux's Bangladeshi Workers Management System also bears similarities to Bestinet's Foreign Workers Centralised Management System.
Migrant labour advocate and Caram Asia representative Mohamad Harun Al Rashid said this raises suspicion that things are going back to square one through "associate companies".
Harun said the link with JR Joint Resources is also of concern as there have been many complaints by Bangladeshi workers about the firm's management of an earlier amnesty programme.
The firm appointed to manage the programme charged workers more than RM1,000 per person to provide 'A-Z' departure service, but many workers had to run around themselves, he said.
"This is like extorting money from migrant workers," Harun said when contacted.
"Why is this firm given special consideration? My concern is that we would be repeating what happened in the past, that workers will be on the streets," he said.
Source: malaysiakini