Workers against move to slash EPF contribution
30 January 2016 Print page
Alyaa Azhar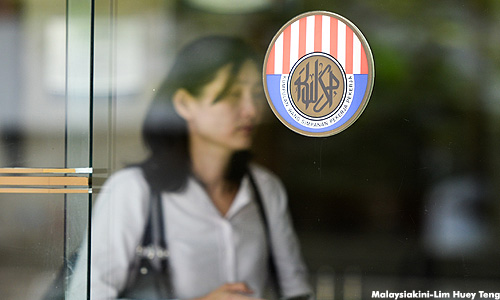 Prime Minister Najib Abdul Razak's announcement that contribution by employees to the Employees Provident Fund (EPF) will be reduced by three percent – from 11 to eight percent of their salary – is a cause for celebration for some.
But for many workers, having more savings for the future is better than having more disposable income in the short term.
Thirty-five-year-old Nor Shazreen Sapuan does not support the cuts, preferring to have more savings to accumulate dividends.
"Yes, we may have more income (when EPF deductions are cut) but with more money, we will be spending more.
"It is better that we keep the money; at least we will get dividends (from it)," she told Malaysiakini.
Shazreen, who works at the accounts service department at a local bank, added that she was used to the 11 percent EPF cuts anyway.
"And it's not like we can 'see' the money; it's better for it to be left in the EPF," she said.
Bank officer Putri, 26, also prefers to have more EPF savings and pointed out that reduced contribution would mean that she would have to pay more income tax.
"It's not really a good move; it should stay at 11 percent. It's okay for the rate to be increased but it should not be reduced.
"I prefer more EPF savings because otherwise, I have to pay income tax," she said.
In his 2016 Budget revision speech on Thursday, Najib announced that compulsory workers' EPF contribution, which is automatically deducted from their monthly salary, will be cut by three percent from March this year to December 2017.
The move, he said, was one of 11 key measures to stimulate the economy and will increase private consumption expenditure by RM8 billion a year.
Option for workers
Meanwhile, Arvind (not his real name), 33, conceded there were both pros and cons to the move.
"It will definitely increase money supply in the market and it is good for the economy, overall," he said.
However, workers' savings will definitely shrink in the next two years, he noted.
Arvind prefers that his current EPF contribution at 11 percent to remain as it is.
"I will ask my employer not to cut the additional three percent so I can maintain my minimum savings.
"I don't want to reduce my savings. At this age, I should be saving more," he said.
Ultimately, it is up to the particular individual, he said.
"If they want more money in their pocket, go ahead. But if they find it's time to save, then they should do something."
'For old age'
Commenting on the announcement made by Najib two days ago, engineer Mohd Nurhadi thinks it is unfair.
"A portion of our money is supposed to be for our old age," said the 29-year-old.
Malaysia, he said, is rich with natural resources and there are other ways to increase revenue for the country.
"Why must the rakyat be further pressured (by the government)? I, myself, am disappointed with the prime minister.
"It's not about the salary. Our savings is more important because we will not live that long; our wives and children will need the money."
Nurhadi, too, will opt for the same EPF contribution, at 11 percent.
Meanwhile, admitting that consumer spending will increase with the move, Yap (not her real name), however stressed that it should be an interim measure.
"It's a short-term solution to a long-term problem. In the long run, it's not going to help. The two-year period is enough; it shouldn't be more than that," said the 60-year-old.
'Little benefit for the low-income'
Her friend, fellow bank worker Annie, 48, is strongly against the change in the EPF contributions.
"The EPF savings is for building your own nest for your old age. As it is, money for old age is not enough.
"And now, taking two years of savings? It will be worse off; I don't think it is a solution."
And for low-income earners, Annie is doubtful that they will benefit from the move.
"As it is, this group at the lowest rung has the least savings in EPF.
"The three percent won't amount to very much if we're talking about the low income group," Yap chipped in.
"As for the higher income group, it makes no difference."
Source: Malaysiakini