There Is No Reason For Malaysia To Be Worried About Myanmar Workers Ban
20 December 2016 Print page
Written by Teh Wei Soon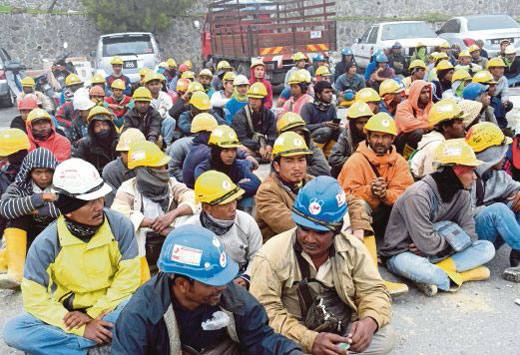 AS relationships continue to sour between Malaysia and Myanmar over the plight of Rohingyas in the Rakhine state, the country's Ministry of Labour, Immigration and Population has announced that licenses would no longer be issued to its citizens seeking employment in Malaysia.
"Myanmar has temporarily stopped sending workers to Malaysia from 6/12/2016 because of the current situation in Malaysia," it said in a statement.
Myanmar Overseas Employment Agencies Federation's (MOEAF) central executive committee member U Myat Thu reportedly said that Malaysian companies will face "difficulties" following the suspension.
According to MOEAF, there are an estimated 500,000 to 700,000 Myanmar workers living in Malaysia, most of them without legal documents, and about 3,000 Myanmar workers a month were being sent to Malaysia on average.
In a nod to the possible complications employers may face, the Federation of Malaysian Manufacturers (FMM) highlighted that Malaysia's manufacturing sector, which employed 100,349 Myanmar workers as of June this year, was already facing labour shortage, urging the Home Ministry, to countermeasure by amplifying the application of replacement workers should the moratorium be implemented.
Malaysian Digest contacted the Ministry of Human Resources to confirm if local employment agencies have received any black and white directive on the freeze of workers from Myanmar so far, but they were not immediately available to comment on the matter.
The Ban Will Affect Some Sectors, But It Can Be Contained
Clarifying further on the topic, Malaysian Employers Federation (MEF) executive director Datuk Shamsuddin Bardan (pic), speaking with Malaysian Digest said, the Myanmar government's ban would not leave a significant impact as their existing workers in the country, working in different sectors would not be deported immediately.
He asserted that various industries in the country would not be severely affected in the short run by the moratorium as Malaysia opens up its manpower market to various countries such as Bangladesh, Indonesia, Nepal, India and the Philippines, among others.
"According to our statistics, about 70 per cent of Myanmar workers in Malaysia are in the manufacturing sector, 15 per cent in construction, 10 per cent in services, and four per cent in the plantation and agriculture sector. At present, there are roughly 150,000 legally employed Myanmar nationals in our country."
Shamsuddin, however, said: "If Myanmar enforces the purported suspension, the existing workers in Malaysia would be sent back to their country gradually once their permits expired, and this will disadvantage certain industries in the long run."
In addition to helping the employers cope with the situation, he suggested for Malaysians to take up vacancies in the elementary occupations, which the foreign workers leave behind.
"In our country, elementary occupations namely cleaner, domestic helper, farmers, and sanitarian in general have a 'branding' problem.
"Most Malaysians perceive these as menial jobs and associate it with the employment of the poor and lower class group. To solve this problem, rebranding is of utmost importance.
"A good example would be, a person who prepares food in a restaurant was once known as a 'cook', but now people highly regard the profession and call them 'chef'. The same goes to bus drivers and garbage collectors, people in some countries now call them 'bus captain' and 'sanitary engineer' respectively," he noted.
Shamsuddin also believes in the notion that the more Malaysians we hire, the lesser dependence we have on foreign manpower.
"A continuous programme tailored to recruit local workers should be properly planned and implemented," he stressed.
Time For Malaysians To Stop Being Overly Dependent On Foreign Workers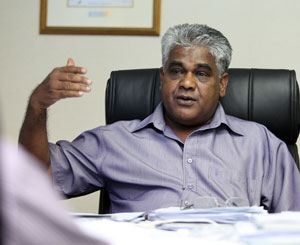 In agreement with MEF on the matter, Malaysian Trades Union Congress (MTUC) secretary-general N Gopal Kishnam (pic) said Myanmar's purported freeze over the recent political spat should serve as a wake-up call to the private sector and other industries which hire foreign workers.
"The foreign workers ban is not a new issue as it occurs from time to time in other countries, not only in Malaysia. It is usually politically motivated which results in public outcry, thereby forcing the governments where these workers originate from to impose such suspension on its workers.
"Over the past years, Malaysians have become too dependent on foreign labour supply in various sectors. We see them in factories, restaurants, security companies, construction sites and many others. That dependence assumes we continue to have ready access to an inexhaustible supply of foreign labour," Gopal said.
"If the situation continues, Malaysia will continue to be economic laggards as more and more of our citizens will be looking abroad for greener pastures. The way forward is for the employers to have a change in their mindsets and find ways to cut our economy's unhealthy and unsustainable dependence on foreign labour for its continued progress.
"This mindset change must translate into employers being more skill dependent instead of [hiring] labour intensive workers. The government must come up with initiatives, that could gradually prevent the economy from its dependence on foreign workers and ensure a strong, sustainable and balanced workforce," Gopal remarked.
In fact, he likened the situation to a blessing, to lure more Malaysians to fill up the open vacancies.
"Only by minimising the hiring of foreign workers will it prompt the industry players affected to look seriously into the matter in terms of giving better wages and training opportunities," he opined, adding that "high dependency on foreign labour will not only reduce productivity but bring about a multitude of problems."
The Potential Impacts Of Employers Losing Myanmar Workers
Consistent with our previous interviewees' comments, Mr Tonny Yap, operations manager of foreign manpower and recruitment agency, GA Global Sdn Bhd, believes the number of Myanmar workers in Malaysia does not amount to the majority of those from other countries, hence the purported freeze will not have much impact.
"Over the years, [we have recruited] more than 20,000 foreign workers, including Myanmar, for Malaysian employers from various industry such as electronics, food manufacturing, garments and textiles, poultry farming and processing, vegetable farms, plantations, construction, furniture-making, restaurants and hospitality.
"We have successfully assisted many employers in obtaining approvals and visas, permit renewal, MLVK certifications, select and recruit quality skilled and semi-skilled workers.
"However, I believe that the ban will not have much effect on Malaysia even though most Myanmar workers are serving in the manufacturing industry as well as the food and beverage sectors," Yap told Malaysian Digest.
Despite justifying that it would not hurt the manufacturing industry here, he declared the Myanmar nationals currently employed in the sector, are competent workers.
He however thinks their loss (if any) would not be a huge hindrance in hiring new manpower as the number of Myanmar workers in our country is relatively low, leaving room for only minimal impact.
"Besides, we have other manpower sources from more than 10 countries such as Bangladesh, China, Nepal, Vietnam, Myanmar, Pakistan, Sri Lanka, Cambodia, Philippines, India, and Indonesia," he relayed.
Having said that, Yap, also acknowledged the peril of being overly dependent on foreign labour.
"In our strive to overcome labour shortages in various industries, the overdependence on foreign workers and the negative impacts it leads to has become a serious social problem in our country in recent years.
"Moving forward, we should change this mentality if our next growth target is to become a high-income economy," he emphasised.
Myanmar Agencies Are Still Sending Their Workers To Malaysia
While the diplomatic tiff between the two countries remain unresolved, and with the ban being non-concrete, Thein Win, Myanmar's director of the ministry's Migration Affairs Department, clarified that workers who have been cleared prior to the ban, will still be able to travel to Malaysia.
Their agencies however must adhere to new terms and conditions, signing a waiver undertaking any responsibility for their workers.
"We will allow the agencies to send workers who have been cleared by the Committee of Education, Health and Human Resources Development, but no others," he was quoted as saying in Myanmar Times.
However, the exact number of workers is yet to be ascertained, pending final reports from the agencies involved.
"We had a lot of workers who had completed training and got their visas. We agreed to take responsibility for them. The workers are willing to go, and the employers in Malaysia want them. So I signed the waiver," an unnamed agency manager confessed.
Meanwhile, all we can hope is for the ties of the Association of Southeast Asian Nations (ASEAN) bloc not to be severed any further, welcoming a positive development out of this episode, especially for the suffering of Myanmar's persecuted ethnic Rohingya.
As Foreign Minister Datuk Seri Anifah Aman, who attended the ASEAN Foreign Ministers' Retreat in Yangon yesterday said, "We believe that the situation is now of a regional concern and should be resolved together," calling for the region to coordinate humanitarian aid and investigate alleged atrocities committed against Myanmar's Muslim counterparts – which marks a break with ASEAN members' tradition of non-intervention in each other's internal affairs.
In an encouraging response, according to a statement from Myanmar's Ministry of Foreign Affairs, State Counsellor Daw Aung Suu Kyi "reiterated the government's serious commitment to the resolution of the complex issue and the need for time and space for the government's efforts to bear fruit."
–mD
http://malaysiandigest.com/frontpage/282-main-tile/648922-there-is-no-reason-for-malaysia-to-be-worried-about-myanmar-workers-ban.html