Send back redundant foreign workers, not raise levy, says employers' group
6 February 2016 Print page
BY MELATI A. JALIL
The government should reduce the number of foreign workers in Malaysia by sending home those whose jobs were redundant instead of imposing higher levies to discourage reliance on migrant labour, the Malaysian Employers Federation (MEF) says.
Its executive director, Datuk Shamsuddin Bardan, said among those who should be sent back first were those whose work did not have added value.
"Last time, we had a self-service policy at petrol stations. Now there at least five to six foreign workers attending at petrol pumps… they are there doing something that is not added value.
"So, to me, just take how many petrol stations we have in the country, multiply it by five, and that will be the number that we should send back first," he told The Malaysian Insider when asked to comment on new levy rates announced by Putrajaya that would rake in RM2.5 billion.
Employers would have to pay RM2,500 per worker in the manufacturing, construction and services sectors, and RM1,500 in the plantation and agriculture sectors. Malaysia has some 2.1 million registered foreign workers.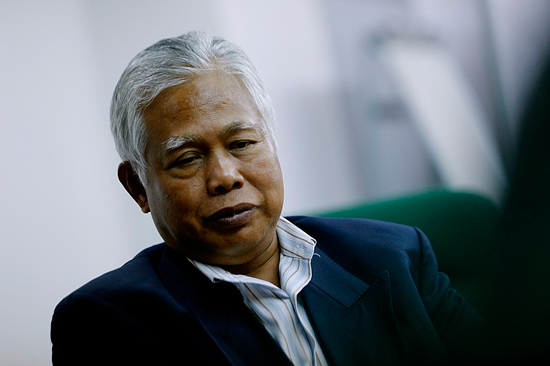 Shamsuddin (pic) said the transition period to self-reliance in the labour force required a more holistic approach by developing the local workforce to obtain the necessary skills that foreign labourers offered.
Putrajaya should also not use the foreign workers' levy as a source of revenue, he added, and should instead look at using it for skills development of local workers.
"The collection of RM2.5 billion is a bit off tangent in the sense that the government shouldn't be looking at the levy as the source of revenue.
"Because, in principle, the levy should be plugged back into industry so that it can be used for reskilling and upscaling of the existing workforce."
Skilled Malaysian workers were only 28% per cent of the workforce, still short of the 2020 target of 35%, he said, and little was being done to boost their numbers and up their skill levels.
"If the government is really serious about reducing the reliance on foreign workers, then they should be preparing the labour market for that. Train up our local workers, give them more skills, certify their skills so that they can be more productive."
He disagreed with Deputy Prime Minister Datuk Seri Ahmad Zahid Hamidi who said the new rates should be seen positively as a way to reduce dependence on migrant labour.
"If you want to reduce (foreign) manpower, don't make it more expensive to recruit foreign workers," Shamsuddin said.
"The cost of hiring should remain the same, but we need to introduce a scheme whereby at the same time, we are developing our labour market to be more skilful and more productive."
He said that employers in the private sector could no longer afford to absorb the levy hike because of the current economic climate.
"The government hopes that by introducing the minimum wage policy and make (the foreign workers' levy) more expensive, then employers will not rely on foreign workers, which I think is a very simplistic policy."
Increasing pool of local workers
Shamsuddin reiterated that Malaysia would have enough local manpower if women's participation in the workforce was increased to least 60%. The current rate is 53%, according to media reports, although Shamsuddin said it was closer to 48%.
Malaysian Trades Union Congress (MTUC) secretary-general N. Gopal Kishnam said salary structures for jobs in the 3D or "difficult, dirty and dangerous" category, such as construction, must be adjusted if Malaysians were expected to take up these jobs.
"For example, the 3D jobs, you cannot give them the same salary as in others sectors. You have to give them extra salary," he said, noting that many Malaysian working in Singapore were doing jobs in these category.
"The issue here is decent wages. If the employers pay decent wages, Malaysian workers are willing to work here."
Gopal Kishnam said the move to impose higher foreign worker levies had been in the pipeline for some time.
He said Minister in the Prime Minister's Department Senator Datuk Paul Low met MTUC on January 26 to discuss issues pertaining to migrant workers, including undocumented foreign workers.
"In that meeting, the proposal from the government was to increase the levy, and the levy is to be paid by employers, not by migrant workers.
"MTUC supports it simply because a majority of Malaysian employers are opting for foreign workers because they believe hiring them is much cheaper.
"So on that basis, MTUC agreed to the increase in the levy, provided that the levy should be paid by employers, not foreign workers."
Gopal Kishnam said companies which have foreign labour as 90% of their workforce move their operations to other countries.
"Maybe they can shift operations to the country from where they are getting the migrant workers, for instance, if they are getting the foreign workers from Nepal, shift the factory to Nepal.
"Malaysia is not gaining anything, every month, huge remittances are going out."
Malaysia should not wait any longer to reduce its reliance on foreign labour, he added, as the country was far from achieving the 11th Malaysia Plan target to reduce dependency to 15% by 2020. Currently, foreign workers still comprise about 30% to 35% of the workforce, Gopal Kishnam said. – February 6, 2016.
Source: The Malaysian Insider