PM to enhance trade plan with China.
12 May 2017 Print page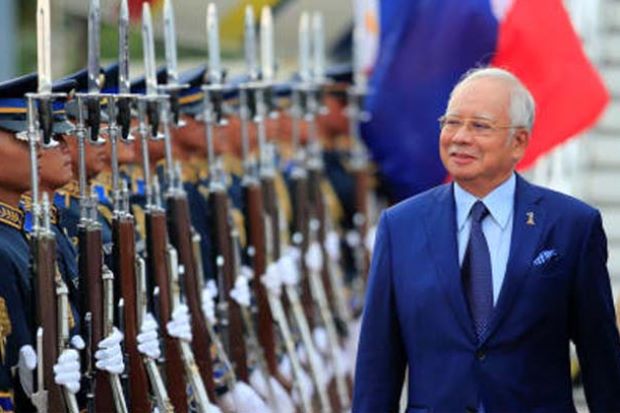 BEIJING: Malaysia's participation in the Belt and Road initiative will be reinforced by the signing of a memorandum of understanding (MoU) with China tomorrow during Prime Minister Datuk Seri Najib Tun Razak's working trip here.
The MoU, aimed at promoting mutual economic development through the Belt and Road grand trade and infrastructure plan, will be signed by our International Trade and Industry Ministry and China's National Development Reform Commission.
"So far, 36 other countries have signed MoUs on the Belt and Road with China," Malaysia's ambassador to China Datuk Zainuddin Yahya said here yesterday.
Malaysia will be the third Asean country after Laos and Cambodia to sign this MoU.
Two other government-to-government MoUs will also be signed to pave the way for cooperation in transport infrastructure and the export of pineapples from Malaysia to China, Zainuddin added.
"Several business-to-business MoUs covering cooperation in the fields of investment, finance, transport, ports, agriculture and property, among others, will also be signed," he told Malaysian media here.
Chinese Premier Li Keqiang will witness the signing together with Najib, who is scheduled to leave for China today to attend the Belt and Road Forum for International Cooperation.
Najib will arrive in Beijing in the afternoon after a brief stop in Hangzhou, Zhejiang province, to meet Alibaba founder and executive chairman Jack Ma, whom he has appointed Malaysia's digital economy adviser.
Najib will be accompanied by his wife Datin Seri Rosmah Mansor.
An MoU between the Malaysia Digital Economy Corporation, Hangzhou Municipal Government and Alibaba will be inked in Hangzhou.
In a blog post yesterday, Najib said he was visiting Hangzhou to see Alibaba's success for himself, as the company has created 36,000 jobs and transformed the industrial ecosystem in China to be more dynamic and inclusive.
"Ma's experience and expertise will surely help elevate Malaysia's economy through the Digital Free Trade Zone which I launched in March," he said.
Najib will also have a bilateral meeting with Chinese President Xi Jinping here tomorrow.
At the two-day Belt and Road forum on Sunday and Monday, the Malaysian delegation will take part in the sessions where outcome docu­ments are expected to be issued.
Najib will share his views on the Belt and Road during the leaders' roundtable on Monday.
"This forum is an important agenda to ensure that Malaysia enjoys the results of the Belt and Road initiative through enhanced connectivity.
"Malaysia's strategic location gives us the advantage to play an important role in this initiative, and I am sure our rakyat will enjoy the benefits as a result of a holistic connectivity as well as economic growth," Najib wrote in his blog.
Najib's delegation includes the Prime Minister's special envoy to China Tan Sri Ong Ka Ting, Transport Minister Datuk Seri Liow Tiong Lai, Ministers in the Prime Minister's Department Datuk Seri Dr Wee Ka Siong and Datuk Seri Abdul Rahman Dahlan, International Trade and Industry Minister II Datuk Seri Ong Ka Chuan, Tourism Minister Datuk Seri Nazri Abdul Aziz, and Agriculture and Agro-Based Industry Minister Datuk Seri Ahmad Shabery Cheek.
Joining them are Johor Mentri Besar Datuk Seri Khaled Nordin and Sarawak Chief Minister Datuk Amar Abang Johari Tun Openg.
Two-way trade between Malaysia and China recorded a year-on-year increase of 28.6% for January and February, totalling RM43.14bil.
Imports increased by 21.6% to RM24.99bil while exports grew by 39.6% to RM18.14bil, compared with the same period last year.
Source : http://www.thestar.com.my/…/pm-to-enhance-trade-plan-with…/…