'Persons with disabilities also want to live dignified lives'
7 March 2017 Print page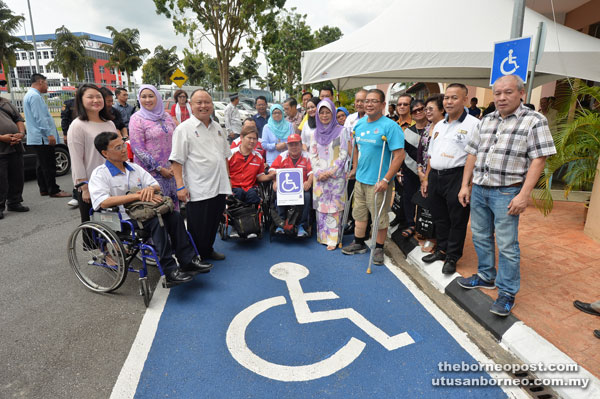 KUCHING: Individuals with disabilities (OKU) need the support of other citizens to live an independent life.
In pointing this out, Welfare, Women and Community Wellbeing Minister Datuk Fatimah Abdullah stressed that those under this category would also want to lead dignified lives and be independent but the community must help create a friendly environment for them.
"If the environment is not supportive of people with disabilities, especially those with mobility issues, then it disables them further. They want to move around and enjoy life just like everyone else," she said.
Fatimah was speaking at the launch of OKU Parking Lots and Parking Sticker for Kuching South City Council (MBKS) at the Stutong Market here yesterday.
"There are cases we've seen before where other people use OKU parking spaces. When you advise them, they say nobody is parking there. Whether or not there is anyone using the space, it's not for you," she said.
A total of 37,340 OKU cards have been issued by the state Welfare Department but that figure does not represent the true number of Sarawakians with special needs.
"Remember that there are people who have not registered their children. Please do so. There are facilities and schools for them," Fatimah said, adding that inclusive education is the way forward for Sarawak.
She further said children who are eventually placed in the mainstream environment with able students end up learning faster, while reminding that there are also community-based rehabilitation centres (PDKs) to help those with special needs learn how to take care of themselves.
In his speech, Kuching South Mayor Dato James Chan noted that Sarawakians in general had good hearts and would help each other.
"Simple acts can go a long way. It will open doors and pave the way for people with disabilities, not showing pity but instead displaying respect." He told the OKU community present that the parking lots were designated for them and reminded others not to park illegally in the allocated spaces. Among others present was Early Childhood Education and Family Development Assistant Minister Sharifah Hasidah Sayeed Aman Ghazali.
When speaking to reporters later, MBKS councillor Patrick Song revealed that the mayor was mooting heavy penalties for those parking their vehicles in OKU lots, like clamping the cars.
"But that is beside the point. The people of Kuching should respect the OKU. It is more important to have awareness than being forced to do something like children. We should think like adults."
According to MBKS OKU Parking Sub-Committee chairperson Yong Li Na, there are 44 parking lots gazetted for drivers with special needs.
"We will be gazetting more in the future," she told reporters, adding that they would look at the need and increase them accordingly. Parking is free for OKU drivers displaying the disability sticker if they park in the designated area. Stutong Market itself has two of these lots, marked in bright blue with a wheelchair icon painted in white.
Source : http://www.theborneopost.com/…/persons-with-disabilities-a…/