NTP policies already delivering good results
22 May 2017 Print page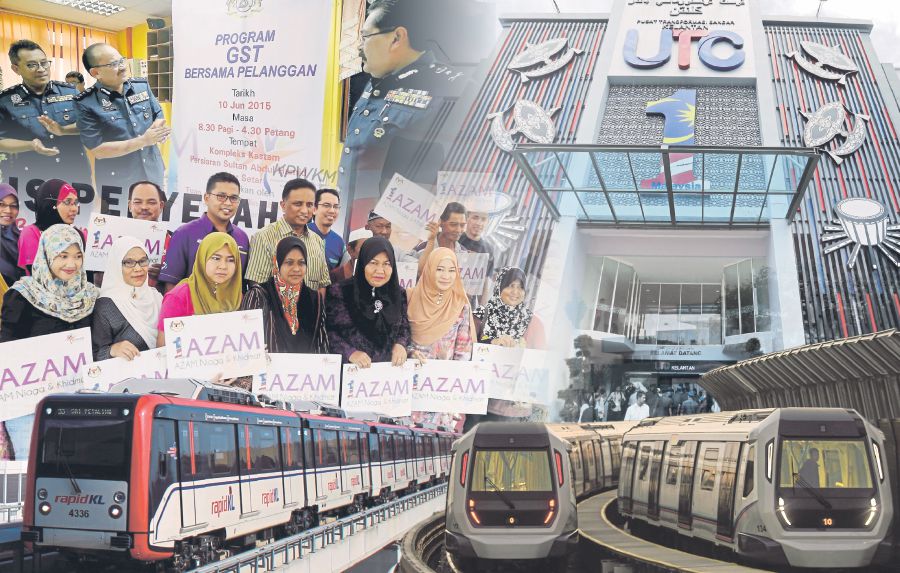 Even neutral observers have commended what we have achieved, says Prime Minister Datuk Seri Najib Razak in this interview.
Question: Datuk Seri, the government has introduced a number of development plans and aspirations in the past. What makes the National Transformation Programme (NTP) different?
Answer: Development and plans are good foundations for nation-building, but implementation is paramount. And to develop that ability to implement with rigour, commitment and accountability, we need a clear, detailed roadmap. When I came into office in 2009, it was apparent to me that we needed more than just a vision to realise Malaysia's goal of becoming a high-income and developed nation. We needed to radically change the way we deliver results for the country. That is why we published a painstakingly detailed roadmap with ambitious, quantitative measures and performance indicators which we can monitor on a daily and weekly basis for the NTP. To ensure the prompt delivery of the NTP's initiatives, we made the conscious decision to share the document with the public — because nothing instigates delivery more effectively than transparency and accountability.
Q: The NTP is built on the premise of transforming the government and the economy. What is this transformation?
A: Prior to 2010, we were also making very little headway in moving out of the middle income trap, as defined by the World Bank and International Monetary Fund (IMF). We needed to take action. We needed radical change. The 1997-98 Asian financial crisis had decelerated Malaysia's economic engine and weakened the country's economic growth prospects considerably. Private investment was also stagnant.
Some of the tough questions posed to me when I was first elected to office were "where are we going as a country?" and "what are the options available to us to enable us to grow sustainably, inclusively and in a resilient manner?"
Transformation is not about making minor tweaks in the system. It's about making tough, and oft-times unpopular decisions to do things differently, but to drive transformation, we must embrace the discipline of action. To achieve high-income and developed status by 2020, we need to transform the way the government delivers on socioeconomic improvements and to undergird the private sector to be the catalyst of growth for our economy.
And, we need to do this consistently and responsibly by delivering socioeconomic growth in a sustainable and inclusive manner — without compromising the government's stable fiscal position.
As I've said earlier, we were faced with difficult questions — Where are we going as a country? Having a vision is good, but we must know how to get there. We needed to assess the roads available for us to take. We looked at the road most travelled, where more than 90 per cent of high-income economies in the world reached their status at the consequence of wide income disparity between the rich and the poor. Their governments had also accumulated massive debt resulting in unsustainable fiscal positions.
That is where Malaysia was headed prior to 2009. Our debt had been climbing at a rate of 10.2 per cent per annum in the last 10 years. If the government had not reined in its spending or its borrowing, our fiscal position would be similar to the likes of countries like Greece, Spain and Portugal by 2019.
And so, I made a decision with my cabinet members to alter course. Only 10 per cent of high-income countries went down the similar path Malaysia embarked on in 2010; Switzerland, Sweden and New Zealand being some of them. They reached high-income status with a sustainable fiscal position; their finances are in surplus or are balanced. These countries have also narrowed the gap between the rich and the poor.
That was the basis of our transformation model.
Q: Your account suggests embarking on a journey fraught with challenges. Is the government of Malaysia up for it?
A: As you rightly put it, the challenges for the government are aplenty. My cabinet and I examined the road Malaysia was on prior to 2009 and we agreed that if we continue to carry out business as usual, the consequence would be that Malaysia would accrue insurmountable debt as a result of unsustainable borrowing leaving the government in a highly precarious fiscal position.
Since 2010, we have done three things to steer Malaysia back onto a road of sustainable fiscal position. Firstly, we removed fuel subsidies. This was politically unpopular, but based on the counsel of various economic and finance experts, it had to be done. Fuel subsidies had reached RM25 billion, accounting for 13.6 per cent of the total national budget. As of 2015, we had managed to save RM22 billion from subsidies and deployed targeted subsidies to the needful instead.
Secondly, we've also reduced government dependence on oil revenue from 41 per cent when I assumed office in 2009, to just 14 per cent today. This dramatic reduction is largely due to a boon in the services sector in Malaysia.
Thirdly, another tough and unpopular measure we undertook was to introduce the Goods and Services Tax (GST). Many parties resisted — including politicians who should have known and did know better. But had we not taken this decision, we would be in dire straits today due to the sharp and sudden decline in oil prices.
Q: And now seven years into the NTP, do you believe these difficult decisions are paying off?
A: I wholeheartedly believe so. As the result of those tough choices, we have built the resilience to register a 4.2 per cent growth of our GDP in 2016 despite the turbulent global economy. We expect a slightly higher figure for this year and for it to continue to rise in 2018. These show Malaysia growing at more than double the rate the IMF predicts for advanced economies over the same time period.
Between 2010 and 2016, the NTP created 1.8 million jobs, of which over one million were high-income jobs. Gross National Income increased by nearly 50 per cent. We have almost eradicated poverty, reducing it to just 0.6 per cent. We have kept inflation and unemployment low, and have been acclaimed by global institutions such as the World Bank and the IMF for the socioeconomic transformation we have undertaken.
It is evident that we have delivered, and we will continue to deliver.
Q: Every country promotes inclusivity in their policies. How is Malaysia any different?
A: Breaking through to high-income status is only one of the aims of the National Transformation Programme. The NTP also aims to generate benefits for all Malaysians. It is key that no Malaysian gets left behind; that the needs of all our people are met; and that all communities, whether large or small, are able to contribute to and share the wealth of the country.
To help those less well-off cope with the rising cost of living, and also to stimulate economic activity in the consumer market, Bantuan Rakyat 1Malaysia (BR1M) — or the 1Malaysia People's Aid — was introduced in 2012. This is the targeted, redistributive initiative I was referring to earlier, BR1M has provided targeted relief to over 7.28 million households earning less than RM3,000 a month in 2016.
Additionally, we have the target of building 1.1 million affordable and low-cost homes for middle and low-income households, including housing for civil servants and the new generation of Felda settlers. We have already completed 21 per cent, and another 22 per cent are currently under construction.
We took these measures because ultimately, a high-income economy is only meaningful if it benefits all the people, so that they have more choices, higher purchasing power, opportunities for upward mobility, better living standards and a better quality of life.
Q: Can you share some tangible success stories from the NTP?
A: There are many examples to list, but one that I will mention is our setting of a new benchmark for public transport previously unseen in Malaysia. With the launch of the Mass Rapid Transit, or MRT, last December, the completion of the LRT Extension Project; and the ongoing transformation of bus and taxi services, our vision of a modern world-class public transport system in our capital is now within reach.
LRT lines such as the LRT3 between Klang and Bandar Utama will connect local townships and create better accessibility.
The MRT will carry close to a million people over 100km daily — guaranteeing the people fast, reliable and environmentally-friendly public transportation. And if I could stress this again, the project is being delivered on time and on budget.
Likewise, the East Coast Rail Line will be a game-changer for Peninsular Malaysia's east coast, as the Pan-Borneo Highway will be for Sabah and Sarawak.
Lastly, MyHSR, the high-speed rail link between Kuala Lumpur and Singapore will cut the journey time between our two capitals to a mere 90 minutes. This is unprecedented.
Q: The MRT and the planned HSR are large infrastructure projects geared towards catalysing investment and benefiting mainly urbanites. What about the rural folk?
A: The beauty of the NTP is its ability to deliver real, tangible impacts to the everyday people. Let me give you a couple of examples. Take Johorean Zul Izzamin. He inherited Izzamin Mini Market, a sundry shop serving mostly his local community, from his late father in 2000.
In 2011, he chanced upon the Small Retailer Transformation Programme (Transformasi Kedai Runcit or TUKAR programme) that was advertised in a newspaper. Zul found that he was eligible, enrolled and took the initiative to implement expert advice from TUKAR programme mentors.
He took a RM25,000 loan offered under the programme and renovated his shop. "Since then," he says, "our shop income increased by 100-200 per cent." A wonderful example of the NTP in action.
There's also the story of Chik Azmily Che Abdul Aziz. He and his wife were barely getting by on RM500 a month working as daily labourers in Kelantan. Chik Azmily got involved in the 1AZAM initiative, providing him with agricultural equipment, seeds, fertiliser and herbicides. He started growing short-term seasonal cash crops such as cucumber and watermelon and selling them to wholesalers. His wife was provided with sewing machines to kick-start her tailoring work, and she managed to secure a deal with a batik factory to tailor batik shirts. Within a couple of years, they had gone from earning RM500 a month to RM5,000 a month.
These are just some of the remarkable ways the NTP has touched the lives of our rakyat.
Q: Based on these results, are you confident that Malaysia will arrive at its target of becoming a high-income nation by 2020?
A: I believe so. Even neutral observers who have seen what we have done, what we continue to do have commended us on our commitment to deliver. They have witnessed the results of our transformation programme thus far. All these are published publicly in our annual reports since 2010.
This is why all the major rating agencies such as Fitch, Standard & Poor's and Moody's — and they are not easy to please, I can tell you! — have reaffirmed Malaysia's credit rating at 'A'.
Let's turn to the IMF, one of the most respected institutions in the world. Its latest assessment of Malaysia said, and I quote: "The Malaysian economy continues to perform well, despite significant headwinds, and has made significant progress towards achieving high-income status." They've commended our reforms and have urged us to continue with the transformative policies that I have shared with you.
And just this month, BAV Consulting and the Wharton School of the University of Pennsylvania released their 2017 Best Countries Report. Malaysia was quoted to be "the clear frontrunner" in terms of the best country in the world to invest in.
Q: Does this mean your job is done?
A: Though we should be proud of the NTP's achievements so far, so much more needs to be done! The road to national transformation does not end here — we must keep moving and my government will keep innovating and not rest in our efforts towards this.
Source : https://www.nst.com.my/…/ntp-policies-already-delivering-go…