'No, private healthcare isn't a gold mine'
17 March 2017 Print page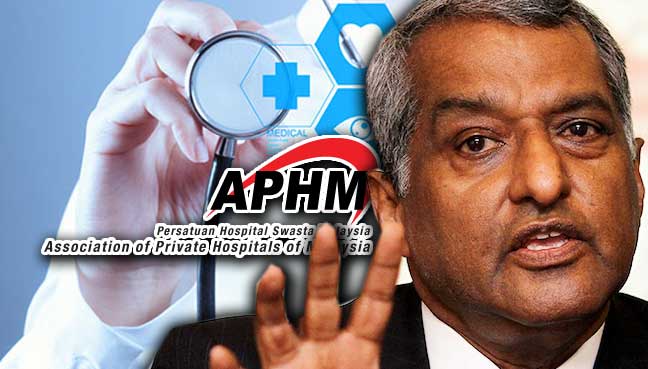 The Association of Private Hospitals denies that its members make pots of money.
KUALA LUMPUR: The Association of Private Hospitals Malaysia (APHM) has rejected the widely held notion that its members are making inordinate amounts of money.
Speaking to FMT, the association's president, Jacob Thomas, said it was wrong to think of private healthcare in the country as a gold mine.
"People think we are here to make pots of money because our charges are higher compared to public hospitals," he said.
He claimed that there was little difference in "actual costs" between public and private healthcare.
"The difference is that public healthcare is heavily subsidised. So an individual may think it's cheap, but it does come at a cost to taxpayers."
Thomas said people should look at the cost of private healthcare in neighbouring countries to see how much more affordable it was in Malaysia.
He said the quality and affordability of Malaysia's private healthcare was the reason the country was growing as a medical tourism destination.
"Some 70% of our medical tourists are from Indonesia and our currency is considered higher than theirs," he said. "With Singapore, if you were to make a dollar-to-dollar comparison, the charges are the same. What costs you S$10,000 in Singapore will cost you RM10,000 here."
He also said private hospitals were a necessity in the nation's healthcare system, noting that the country's 230 private hospitals accounted for 30% of the country's healthcare needs.
"Government hospitals take care of 70% of healthcare needs, and even then they are overburdened," he said. "Imagine if private hospitals shut down for just one day, the patients would have to go to public hospitals and this will add to the pressure on public healthcare."
He said this was why he disagreed with those urging the government to freeze private hospital licenses to prevent the migration of talent from the public health sector to the private sector.
One of the quarters calling for the freeze is Parti Sosialis Malaysia (PSM). Last December, PSM treasurer Soh Sook Hwa claimed that increasing numbers of specialist doctors were leaving the public sector for the private sector, causing a shortage of manpower in government hospitals.
Thomas said the solution to the problem was for the government to produce more talent and provide better incentives so that people would be less inclined to leave the public sector.
"In fact, nurses in the public sector are well looked after and are a contented group," he said. "In the past, they preferred private hospitals but this isn't the case any more."
Source : http://www.freemalaysiatoday.com/…/no-private-healthcare-i…/