Ice workers swarm EPF over unpaid contributions
3 June 2016 Print page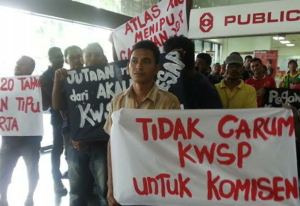 About 50 employees from a major edible ice producer and distributor has lodged a complaint at the Employees Provident Fund (EPF) office, alleging that their employer has not made EPF contributions for the commissions they earned for over 20 years.
They swarmed the EPF headquarters' lobby at Jalan Raja Chulan yesterday with banners which read: 'No EPF contribution for commission' and 'Employer conned workers for over 20 years'.
Claiming to represent 100 lorry drivers and assistants from the company's Kepong and Batu Caves branches, they alleged their employer had not contributed to their respective EPF accounts amounting to millions over the years.
They earn commission based on the weight of the ice they deliver to customers daily,
Group representative Zulkifli Rathi, who has been with company as a lorry driver for 13 years, claimed he was owed around RM20,000 in EPF contributions from his commission.
"The company only started contributing to my EPF for the commissions I earned from October last year.
"The loss of RM20,000 in EPF contributions for commissions I have earned will impact my family, as they are savings for my old age… it's a significant amount," the father of two said.
The group also issued a press statement, which said the company only began initiating EPF contributions for commissions earned between April and October last year.
The statement also alleged that an EPF enforcement official had conspired with their employees regarding the misappropriation of the EPF contributions.
Workers-EPF officials discussion
After a 45-minute discussion between the ice-maker workers' representatives and EPF officials, the EPF's head of Enforcement Department Hardial Singh assured that a thorough investigation would be conducted.
"What's important to help us conclude our investigation is that we require detailed documentation from both the employees and employers.
"The liability of this case will be decided based on the documents and facts presented, and the rule of law.
"We hope to solve this issue as soon as possible and provide a response (to the affected parties). It may take about a month," Hardial said.
Also accompanying the workers were NGO Socialist Alternative representatives Eric Nicholas and Yuvanesan Balan.
Eric mentioned that the EPF officials have reassured them that they will investigate this matter and interview the employees of the company's Kepong and Batu Caves branches.
"If this investigation does not bring any results, we will return again and take further action," Eric said.
Malaysiakini has contacted the particular ice corporation for a response.
Source: Malaysiakini