Huge profit for suppliers bringing in 1.5 million Bangladeshis, say trade groups
15 January 2016 Print page
BY SHERIDAN MAHAVERA
Immense profit from the recruitment of foreign workers is one reason that the migrant labour supply industry is open to abuse and corruption, trade groups said.
Labour suppliers are able to make a net profit of between RM3,000 and RM4,000 for each foreign worker they bring in, by charging companies between RM8,000 and RM12,000 per head, experts said.
The enormous profits in the foreign worker supply industry are in the spotlight again after news emerged that Putrajaya would continue to bring in 1.5 million Bangladeshis despite the fact that businesses are slowing and companies are retrenching locals.
Quoting trade groups, The Malaysian Insider reported yesterday that profiteering, rather than market demand, could be behind the plan to still bring in 1.5 million Bangladeshi workers even as local businesses face a rough year.
Critics of Putrajaya's labour policies claim labour suppliers are gearing up to make a tidy profit from those 1.5 million Bangladeshis.
Also lucrative is the online system to manage applications and processing to bring these workers in and according to reports, it has been awarded to one company Synerflux Sdn Bhd.
The fact that one foreign worker is between RM200 and RM300 cheaper to maintain a month, compared with a local, makes them popular with local companies, trade unionist N. Gopal Kishnam (pic, below-left) said.
"Companies like to bring in foreign workers because they are easier to manage compared with locals. They also work hard and complain less," the secretary-general of the Malaysian Trades Union Congress (MTUC) said.
For instance, unlike a Malaysian, companies need not pay Employee Provident Fund (EPF) or Social Security (Socso) contributions for a foreign worker, Gopal added. Their salaries are also fixed for the three-year contract which they sign.
In contrast, a Malaysian worker would usually demand an annual increment, he said. Locals and foreigners are also paid different overtime rates.
Gopal suspects that the plan to import 1.5 million Bangladeshi is related to the retrenchment of locals in 2015, a trend which is expected to continue this year.
Last year, the Malaysian Employers Federation (MEF) estimated that about 20,000 workers were laid off. This figure excludes the 6,000 Malaysian Airlines workers who were let go as part of that company's restructuring plan.
Gopal said the figure is likely to be twice as high with some companies having resorted to voluntary and mutual separation schemes.
Unlike retrenchments, companies need not get approval from the Labour Department to conduct VSS and MSS. "But the result is the same because the companies want to get rid of staff they do not want. Then when the foreigners come in, they hire these foreigners for the same jobs but pay them less than the locals."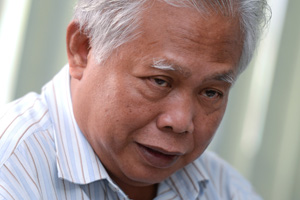 The MEF refutes this claim, saying that the law ensures that foreigners are the first to go in any retrenchment exercise. "The law is very strict, you have to retrench foreign workers first.
You can't lay off locals and replace them with foreigners. In fact, to get foreign workers you must apply first to the Labour Department," MEF executive director Datuk Shamsuddin Bardan (pic, left) said.
Foreign workers also often get the raw end of the deal, said Klang MP Charles Santiago (pic, below-right), as in the majority of cases, their levies are charged back to them by the company which hires them.
"Synerflux stands to make almost RM3,000 per foreign worker. Although the money is initially charged to companies who want to bring them in, the worker may pay in the end through salary cuts." There have also been numerous cases of labour suppliers abusing their foreign workers, not providing jobs that were promised and even not paying them salaries, said Santiago.
Source: Malaysian Insider