Felda's affordable housing scheme to take off this year
17 April 2017 Print page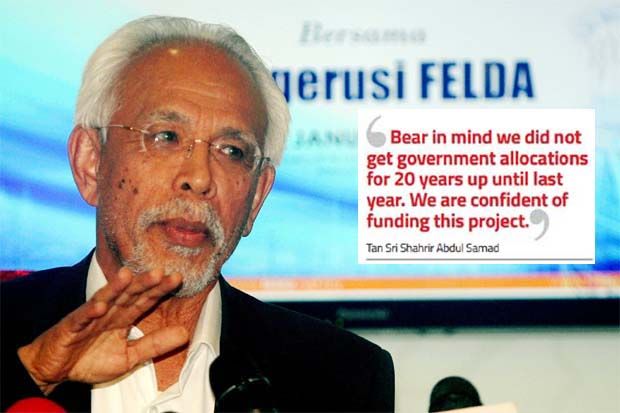 KUALA LUMPUR: The Federal Land Development Authority (Felda) has to return to its roots or balik asal and do more to represent the interests of its 112,000 settlers as a land reform agency, according to chairman Tan Sri Shahrir Abdul Samad.
The Johor Baru MP was said to have been reluctant to take up the chairmanship at Felda in the beginning. However, he was persuaded to assume the reponsibility following the Prime Minister's encouragement as well as by the mandate of carrying out Felda's inititatives.
Shahrir is known to drop by his office in Menara Felda here even during the weekends to go over the agency's affairs and formulate policy decisions in addition to his current responsibilities as MP.
When StarBiz caught up with him last week, Shahrir had just conducted a series of meetings with not only Felda's employees but ministers.
"The first 100 days have been interesting and rewarding for me. Felda is about land reform and our model is unique. I accepted the job because making the land reform model work resonates with me," he said.
Shahrir described the balik asal concept as returning Felda to its glory days.
"This means going back to being good at your job, and understanding that you should perform. We want to be seen as a great organisation and we want to be in touch with the people and communities," he said.
The back to the roots philosophy will be the thrust for the agency's new affordable housing policy as it aims to provide 20,000 houses under a new housing scheme to be carried out in partnership with Syarikat Perumahan Negara Bhd (SPNB).
The terms for the settlers are generous as they only need to pay RM270 a month for a 1,000 sq ft house over a 25-year period under a similar model as SPNB's existing rumah mesra rakyat scheme. Second generation Felda settlers will be eligible to apply and the houses will be offered via a balloting process.
"In previous housing schemes Felda used to do everything by itself. There are some problems by doing this because it then became contractor-driven and at the same time we forgot about the state having to get involved too because land is a state matter.
"To avoid delays, we decided to do this as a programme, not just as something that is part of the group's profit and loss," he explained.
Under the new arrangement, Felda will set aside land as part of the Group Settlement Act. The houses are estimated to cost around RM45,000 each with additional charges relating to the land plots.
The agency will also subsidise the substantial infrastructure costs for the new housing areas.
SPNB already has a project in Sungai Sayong, Johor in a Felda scheme, Shahrir pointed out.
"In a rural context, there is an issue with people having a pay sheet. Some do not have a fixed income or an EPF account. Since banks may not be able to give out loans, SPNB will deal with the payment collection and sort of finance the settlers," he said.
Aside form an existing government subsidy amounting to RM200mil, the endeavour is estimated to cost Felda about RM500mil a year. Shahrir said this year would be crucial for the agency as it plans to roll out several pilot projects and explore potential avenues for financing.
"We may consider a long-term sukuk. Bear in mind we did not get government allocations for 20 years up until last year. We are confident of funding this project," Shahrir said.
Source : http://www.thestar.com.my/…/feldas-affordable-housing-sch…/…