Fatimah: Relevant departments have final say on who they hire FMT Reporters
6 March 2017 Print page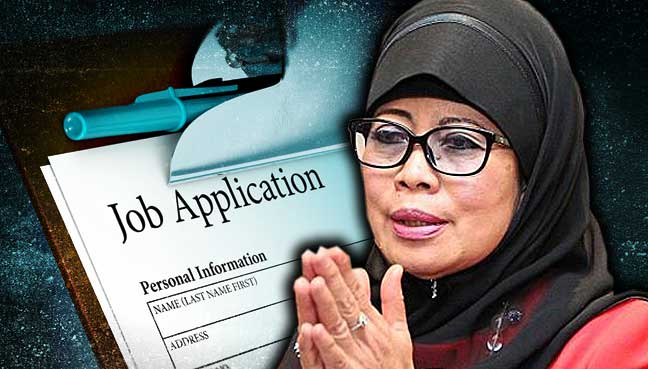 Sarawak education minister says woman had applied for 10 positions through the e-recruiment website, which posts vacancies in the state government.
Fatimah-Abdullah-jobKUCHING: Federal and state government departments have their own prerogative on whether applicants to advertised vacancies should be accepted for employment.
Sarawak education minister Fatimah Abdullah said that individual departments have final say on who they hire, including for teaching-related positions.
"For specialised job positions, the relevant departments will filter them," Fatimah told reporters today.
She was responding to a statement by Sarawak DAP leader Chong Chieng Jen, who yesterday said that a local Mathematics graduate never knowingly applied for a job advertised by the Sarawak Islamic department.
Wong Wang Yuen had applied to become a mathematics teacher via the JobsMalaysia, Education Service Commission and e-recruitment websites.
One of her applications was rejected by the state religious department last month because it did not meet its "filtering criteria".
Wong graduated in 2013 with a master's degree specialising in mathematics education from the Sultan Idris Education University.
Chong, who has taken on the applicant's case, also questioned why applicants from other states were hired over qualified local graduates such as Wong.
Fatimah today said that Wong had applied for 10 positions through the e-recruiment website, which posts vacancies in the state government.
The job positions she had applied for are: assistant archivist, information officer, administrative officer, publications officer, DG29 grade service officer, DG41 grade education service officer, land and survey officer, archivist, public relations officer and peat soil researcher.
"The record shows this. That is why the accusations that the state Islamic department vets the recruitment of teachers is unfair because the department advertises positions under its own agency," she said.
"It was a position to become an officer responsible for Arabic language curriculum at a public religious school," Fatimah said on the job that Wong had allegedly applied for at the Sarawak Islamic Department.
Fatimah added that Wong's case should not be turned into a religious issue.
"Once you plant the seeds of distrust, that's not good for our society."
"I pity Wong. She has become an object to be used for other purposes. This is what I meant when I said we should look at the cases such as this objectively," she said.
Wong also holds a bachelor's degree in education from Universiti Tun Abdul Razak.
Wong, 31, told FMT that her first application was rejected in 2010, the same year the government announced it would no longer accept graduates from the university.
But since she wanted to teach, she decided to pursue a master's degree at an accredited public university.
Since then, she has applied every year for a job teaching Mathematics with the government. She had never received a response until this year.
The government does not accept applicants above the age of 35 for teaching positions.
Sarawak has a shortage of 600 teachers, including 64 mathematics teachers, according to the state education department.
Source : http://www.freemalaysiatoday.com/…/fatimah-relevant-depart…/