Factory torched as Kulai riot escalates
27 August 2014 Print page
Violence at a Kulai factory escalated last night with a portion of the factory was torched, after discussions between worker and factory management fell through.
According to police, 44 workers, mostly of Nepalese origin were detained following two incidents of rioting, the first of which occurred at 10am resulting in a torched car.
Workers allegedly set ablaze the factory store and damaged three other buildings owned by the public-listed electronics company JCY International Bhd by throwing stones at the buildings at about 8pm.
The fire was put out by the fire department at 10.05 pm. No injuries were reported.
According to Kulaijaya Deputy District Police Chief DSP Mohd Idris Samsuri, among the rioters, 13 were arrested last night while the rest were arrested after the earlier incident.
They were arrested under Section 148 of the Penal Code, which deals with possession of missiles at a riot.
"Currently the workers are being remanded and actions to be taken are being discussed with the (Nepalese) embassy."
Mohd Idris said the police have also arranged a meeting between representative of the detained workers and the company management, with embassy personnel present to act as mediator and translator.
He said that the second rioting incident sparked at about 4pm when a meeting between workers and management "went out of hand"
He said that the management had only agreed to give workers a day off from work, and not accede to other demands.
'Beaten if mistakes made at work'
According to Malaysian Trade Union Congress Johor secretary K Mohanadas, the workers had complained of lack of access to medical services and poor living and work conditions.
"The workers were dissatisfied as the highlighted grievances were not addressed.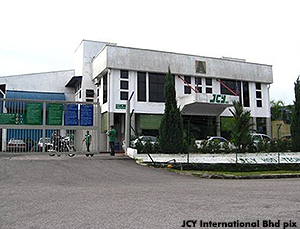 "These include failure to get medical attention, resulting in death in the Tebrau factory (belonging to the same company), poor living conditions, no overtime and alleged beating if they make mistakes at work.
"The hostel condition is really bad with up to 35 people in a shophouse," he said when contacted.
Yesterday, Malaysiakini reported that the violence was sparked when the workers were made to play volleyball using a rock as the ball.
Mohanadas said that workers told him this was punishment for some 20 workers transferred from Tebrau to Kulaijaya.
"The workers also say that the supervisor threw a stone at one of their private parts, sparking the violence," he said.
Asked of claims of abuse, police chief Mohd Idris said that he has no information on this and directed Malaysiakini to the company.
When contacted, the company said it is closed for the day and cannot entertain media queries.
It, however, acknowleged the "unrest" in a filing with Bursa Malaysia.
Mohanadas said the company also told MTUC that it is too busy to speak to union representatives today.
He added that MTUC has also informed the Bar Council, who is sending a team of lawyers to assist the workers.
KAMLES KUMAR is a trainee journalist with Malaysiakini.
Source: Malaysiakini