Crew suspended for criticising MAS reinstated
14 January 2014 Print page
Aidila Razak | 5:00PM
Malaysia Airlines System (MAS) have reinstated nine of the 10 cabin crew who were suspended for allegedly criticising the airline in a closed National Union of Flight Attendants Malaysia (Nufam) Facebook forum.
Nufam spokesperson Mahmood Abdullah said that three were released from suspension a fortnight ago while six more were released from suspension yesterday.
"The crew members got calls from the MAS human resources department to take their (warning) letters except for one (female flight attendant) who remains suspended.
"We should know the verdict for (the flight attendant) soon," he said in an email to Malaysiakini.
Mahmood said that the crew who were released from suspension were warned "not to do it (criticise the company on Facebook) again".
In an earlier statement, Nufam, which was formed in January 2012, slammed MAS for using "aggressive tactics to scare Nufam members" against joining an upcoming picket planned for next week.
"MAS appears to wage war against our union members and we will not hesitate to call for industrial action if MAS prevails this form of threats and tactics against our members," it said.
It added that MAS is "continuing to bully the union members over their (MAS) own failures to resolves workers' problems", following the sacking of Nufam president Ismail Nasaruddin.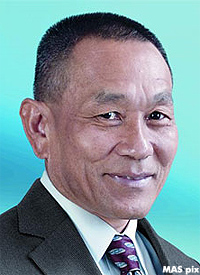 Ismail, a chief steward, was sacked after calling for MAS chief executive officer Ahmad Jauhari Yahya's (left) resignation, in a news article where he lamented the relatively poor working conditions of MAS cabin crew.
In response, MAS denied engaging in union busting and said that it has the right to take discplinary action against employees in accordance to what is stated or implied in the employment contract.
It added that all its collective bargaining, including for cabin crew, is done through the Malaysia Airlines Systems Employee's Union (Maseu) and not through Nufam.
On Jan 4, Nufam conducted a petition drive among MAS cabin crew to reinstate Ismail, but petitioners collecting signatures at the Kuala Lumpur International Airport were ousted by airport authorities.
Source: Malaysiakini