Big pinch for maid employers
8 November 2015 Print page
BY YUEN MEIKENG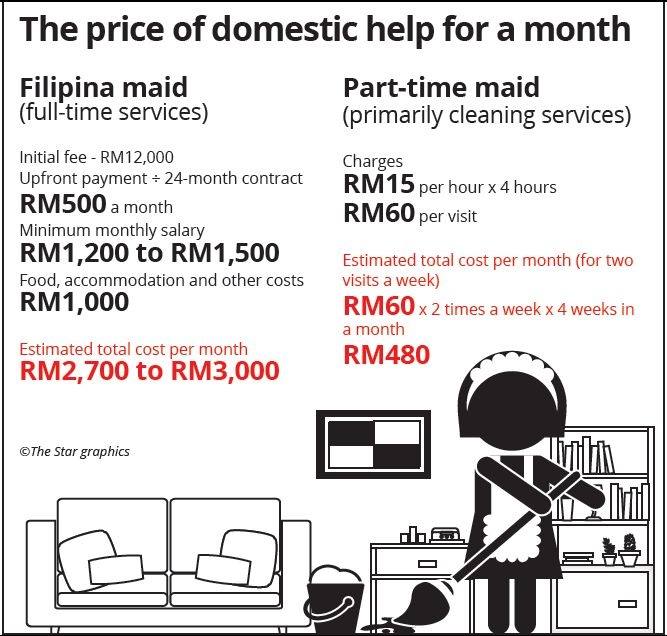 LEE (not her real name), a mother of three, is in a dilemma.
Her Filipina maid of four years has been asking her for a raise because of the challenging times and weakening ringgit.
"I am now paying her RM1,200 a month. But there is no way I can afford to top up an extra RM500 every month to make up for the depreciating ringgit.
"I am not even getting such a raise myself," says the businesswoman in her 40s.
She points out that the present exchange rate required RM1,700 to make up US$400.
A Filipina maid's minimum monthly wages has to be US$400 and the dip in the ringgit has led to employers forking out more.
Last year, the going rate was RM1,200 a month but with the tumbling ringgit, the minimum salary was adjusted to about RM1,440, with some employers forking out more to keep their maids.
If such a trend continues, the rate may be adjusted again.
Due to the changes made a few months ago, newly-employed Filipina maids will be paid more compared to maids whose two-year contracts have been agreed upon before the ringgit took a plunge.
Lee points out that Filipina maids also often discuss salaries they earn among themselves, which has prompted some of them to ask their employers for a raise.
"I am willing to compromise by adding RM200 or RM300. But as it is, I am already burning a bigger hole in my wallet to pay for other costs as well, such as her meals and other necessities," she says.
Another angle to the problem is that while her maid is not affected by the financial state in Malaysia, she is subject to the economic situation in the Philippines when she sends money home.
"She is sending home about 20-30% less due to the tough economy," Lee says.
Some in need of domestic help just make do with part-time maids.
A bank executive known only as Alfred, 37, says he hires a part-time Indonesian maid to clean the house occupied by him and his wife.
"Having a full-time maid is too expensive for us, so we pay the cleaner RM60 per visit.
"She is very trustworthy. We pay her a bit more and she will do extra work for us, even without extra payment," he says.
Alfred adds that even if he were to have children, he would not be able to afford a full-time maid.
He points out that the rising cost of living is taking a heavy toll on couples who have children.
"Even with dual income, the average Malaysian couple struggles to make ends meet to support two children.
"Sending children to daycare centres is slightly cheaper than getting a live-in maid but they would have to deal with another set of challenges, including picking them up on time," Alfred says.
Source: The Star Online