Bangladesh considering inclusion of private agencies to send workers to Malaysia
10 June 2015 Print page
Ashik Hossain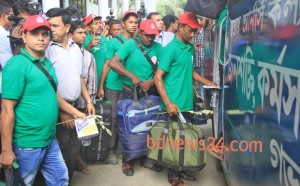 A process is on to include private Bangladeshi recruiting agencies in the government-to-government system of sending workers to Malaysia.
The Bureau of Manpower, Employment and Training (BMET) officials said the government was holding talks with Malaysia on the matter.
The Bangladesh Association of International Recruiting Agencies (BAIRA) President Abul Bashar said they had already received a directive in this connection from the Expatriates' Welfare and Overseas Employment Minister Khandker Mosharraf Hossain.
Private manpower exporters have been against the arrangement to send workers to Malaysia's plantation sector under a G2G agreement from 2013.
BMET Director General Shamsun Nahar told reporters on Tuesday that the government was in talks with Malaysia on this issue.
"We may reach a decision on giving visa in the same way as it is done in the case of other sectors by amending the MoU," she said.
The matter is not final yet, she added.
Nahar said the home ministry of Malaysia was issuing visas for work in sectors other than plantation.
The workers were given exit clearance after scrutiny, she added.
A BMET official, seeking anonymity, said the Malaysian government had already issued around 20,000 employment visas beside the G2G system.
The BMET gave exit clearance to 400 of them until Monday, the official said.
After the discovery of a mass grave of migrants from Bangladesh and Myanmar in a forest of Thailand, human trafficking again featured in the discussions.
Thousands of migrants stranded on boats at sea along the costs of Malaysia, Indonesia and Thailand were rescued afterwards.
People related to migration feel the tendency to migrate illegally rose because of opportunities to work abroad under facilities given by the government.
BAIRA President Bashar said they had a meeting with Minister Hossain recently.
"He (the minister) has directed us to start the process to send workers to Malaysia fast," he said.
Hossain did not specify any sector, he said.
"The government has been sending workers for the plantation sector only. Besides this sector, there is demand of Bangladeshi workers in factories, service, construction and agriculture sectors," he said.
He expressed the hope of exporting at least 150,000 Bangladeshi workers to Malaysia every year once the private recruiting agencies are included in the process.
"It will not only stop human trafficking, but also create employment," he said.
The export of Bangladeshi workers on G2G basis failed to achieve the expected success since its launching two years ago.
There had been a target to send 50,000 workers every six months, but only 7,000 were sent in past two years, according to the BMET.
Source: bdnews24.com