Back govt crackdown on illegal migrants, MTUC tells Bar
7 July 2018 Print page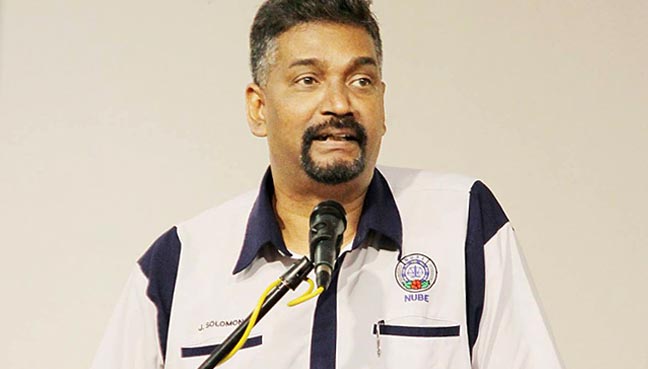 MTUC secretary-general J Solomon says previous government failed to regularise inflow of workers and situation is now serious.
PETALING JAYA: The Malaysian Trades Union Congress (MTUC) has urged the Malaysian Bar to support the government's crackdown on illegal migrant workers.
MTUC secretary-general J Solomon said the legal fraternity should uphold rule of law in the country.
He said uncontrolled influx of migrants had depressed wages of locals and led to exploitation of both foreign and local workers by irresponsible employers.
He claimed that the Bar and many other civil society organisations were partly responsible for the large presence of illegal migrant workers.
He said they should have raised the issue with the former government that had aggressively brought in migrant workers since the 1980s.
"It would be prudent to recognise any genuine efforts taken by the present government to curb undocumented migrant workers," he said in a statement.
Bar president George Varughese had earlier today urged the government to immediately cease the crackdown which began on July 1.
He claimed many of the workers were undocumented through no fault of theirs as the authorities had not provided them with the avenue to independently legalise their status.
He said the crackdown instilled fear among migrant workers and deterred even those with proper documents from coming out to work.
"This has wide ramifications for the productivity of the major economic sectors. Migrant workers are needed for the economic development of the country," Varughese had said.
Solomon said MTUC did not intend to undermine the contribution of migrant labour in Malaysia's development or the hiring of the workers based on need.
He said the sourcing of migrant workers must be subject to existing laws.
"This is because the previous government failed to regularise inflow of migrant workers. When the present government seeks to strictly enforce the law of the land, we should support it.
Solomon said the government should also take bosses who employed undocumented workers to task as they were unlawfully holding workers' passports in order to exploit them.
Source : http://www.freemalaysiatoday.com/category/nation/2018/07/06/back-govt-crackdown-on-illegal-migrants-mtuc-tells-bar/